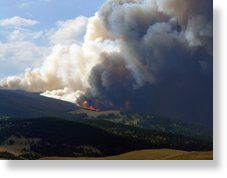 Wildfires drove early morning evacuations in western Montana and brought dozens of fresh firefighters to Washington state on Friday as crews battled dozens of blazes throughout the northwest.
Cooler temperatures and calmer winds helped firefighters control wildfires that had flared up Thursday across eastern Washington in hot, gusty winds.
But in Montana, a cold front brought lightning and sparked seven fires on forest service and private land.
Ravalli County authorities began knocking on doors at 3 a.m. Friday, warning residents about three miles west of Hamilton that a fire in the Bitterroot National Forest was threatening their homes.
The Downing Mountain fire was reported at 8 p.m. Thursday and quickly grew to 50 to 100 acres.
More than 50 homes or structures in the Blodgett and Canyon Creek areas are threatened.
"All of the evacuations so far have gone very smoothly," said Ravalli County Sheriff Chris Hoffman. "We are doing our best to inform and assist residents in the affected areas. This is not an easy process for residents to be told at 3 a.m. that they must leave their homes which are currently threatened. Thankfully everyone has been very understanding and cooperative."
Meanwhile, Helena National Forest officials are hoping cooler weather and higher humidity Friday will help slow the 2,800-acre Davis Gulch fire burning on Stemple Pass northwest of Helena.
Temperatures in the high 90s and strong winds Thursday afternoon helped blow a prescribed burn out of control, forcing the evacuation of more than two dozen homes on Stemple Pass Road.
Canyon Creek Fire chief Jason Grossman said residents in six of the homes and vacation cabins along the gravel and dirt road refused to leave. He said the buildings were not in immediate danger and firefighters were there to watch over the buildings.
"We can't force them (to leave). They know the danger," Grossman said.
More than 100 firefighters were trying to form an anchor behind the blaze and protect the homes, but there was very little they could do to contain the fire Thursday afternoon, said incident commander Greg Archie of the Montana Department of Natural Resources.
"The power of the fire is overcoming the power of the people. We have to change that soon," Archie said.
Temperatures were expected to reach the low 70s in the Helena area on Friday, with winds of 15 mph to 20 mph and gusts to 45 mph.
In Washington, firefighters are trying to put out wildfires near Lyle in Klickitat County, Dayton in Columbia County, Republic in Ferry County, Fairfield in Spokane County and Pullman in Whitman County.
In the Stevens County town of Arden, north of Spokane, Fire Chief Joe Paccerelli said a wildfire that burned two homes died down overnight and no more structures were lost. With the arrival of fresh state firefighters Friday, the chief said about 100 people would be at the scene.
No one was injured in the fire that started when a tree blew down on a power line.
Source: Associated Press