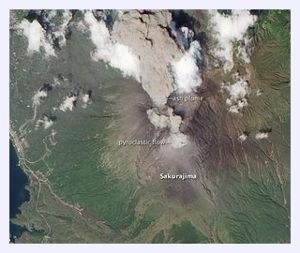 By mid-August, Sakurajima Volcano-one of Japan's most active-had erupted ash at least once every week during 2010.
On August 19, 2010, an ash plume was sighted at 9,000 feet (2,700 meters), according to the Tokyo Volcanic Ash Advisory Center.
This natural-color satellite image shows the gray plume moving west (towards image top) from the volcano's summit. Simultaneously, a pyroclastic flow descended the eastern slopes.
Although Sakurajima's activity since 1955 has been characterized by frequent small eruptions, the volcano still poses a danger to the densely-populated surroundings.
Roughly 7,000 years ago Sakurajima erupted with a volcanic explosivity index (VEI) of 6, equivalent to the 1991 eruption of Mount Pinatubo.
The image was acquired by the Advanced Land Imager (ALI) aboard the Earth Observing-1 (EO-1) satellite.
.