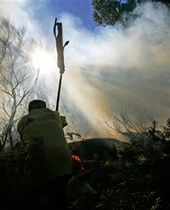 Madrid - Officials say emergency services in Spain and Portugal are combating 19 sizable wildfires as cooler weather is now easing firefighting.
The regional government of Galicia, in the northwestern corner of Spain, says firefighters are working to control outbreaks in four areas of the province, including one "very large forest fire" in Negreira.
A fire in Barjas, in the neighbouring province of Leon, is being brought under control, mayor Alfredo de Arriba says.
Portugal's Civil Protection authority said on Sunday its forces had fought fires in 14 different areas and cooler conditions presented "a much more favourable scenario".
So far this year four firefighters have died, two in each Iberian country. Wildfires are common in Spain and Portugal during summer.
Source: Associated Press