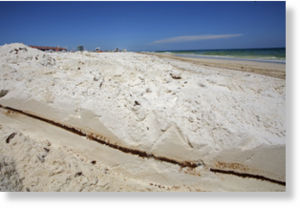 The sugar-sand beach here appeared cleaner Thursday, after workers picked up tar balls overnight with shovels and nets.
By noon they had collected 44,955 pounds of tar balls and oil material
, according to the Escambia County Emergency Operations Center.
But a University of South Florida geologist made a grim discovery Thursday morning, 24 hours after the worst oil onslaught in Florida so far.
Ping Wang, 43, who has studied beaches for 20 years, dug a narrow trench perpendicular to the shoreline, about
a foot deep and 5 feet long
. A dark, contiguous vein of oil ran horizontally along the walls of the trench, about 6 inches beneath the surface of the sand.
The sheet of oil which was deposited on the beach at high tide Wednesday and stretched some
8 miles
was covered by as much as a foot of sand at high tide Thursday, Wang explained.
"Beaches change very often," he said. Depending on tides and wave action, they constantly lose or accumulate sand.
While picking up tar balls and oil patties from the surface is helpful, Wang's discovery suggests that type of cleaning will be inadequate.
"This is going to be hard to clean up," he said. "It's going to need to be a much larger scale effort than what we're seeing."
Wang, working with a team of geologists from USF, dug trenches at various spots along the beach on the Gulf Islands National Seashore and found the buried, unbroken vein each time.
"It's a continuous layer until it pinches off right up here," he said, pointing to a trench near the maximum wave run-up, the point at which high-tide waves begin their retreat. "The problem is they're only cleaning up the top of the beach."
The geologists worry that any violent water activity - like heavy waves created by a storm or frontal passage - will lift the buried oil sheet and cast it further up shore, onto clean sand.
Coast Guard Lt. Cmdr. Natalie Murphy, a spokeswoman for the Unified Command in Mobile, said Wang's finding was not surprising. She said cleanup crews will go after subsurface oil later with machines that can scoop and separate deep oil and sand.
"Overall, in the short-term plan, we're cleaning up what's exposed," she said.
Wang said he wasn't surprised by the discovery. During a study for the National Science Foundation of oil-affected beaches in Alabama and northwest Florida, he found buried tar balls after cleanup crews had left.
USF Coastal Research Lab geologist Rip Kirby raised another issue with the cleanup on a trip to the shore late Thursday night, when he shined an ultraviolet light on the sand. Flecks of orange - which Kirby identified as oil, or volatile organic compounds - were scattered across the beach. Some dime-sized flecks were spotted on the footpath leading over the dunes, 100 yards from the water - an indication that unregulated foot traffic was contaminating clean sand. Closer to the water, tiny specks of oil covered the sand.
"It's the way they're cleaning it," he said. "They're scooping it up with nets and shaking it.
Yes, they're removing the tar balls, but they're also coating clean sand with oil
."
Those tiny flecks can't be seen with the naked eye.
"People need to know," Wang said. "
The beach is not going to be the same for a long time
."