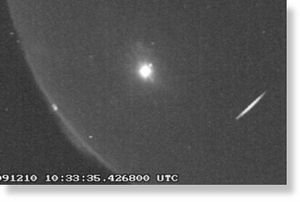 This weekend, Earth is passing through a stream of debris from extinct comet 3200 Phaethon, source of the annual Geminid meteor shower. Forecasters expect more than 100 meteors per hour to fly out of the constellation Gemini when the shower peaks on Dec. 13th and 14th. For most observers, the best time to look will be from 10 pm local time on Sunday night to dawn on Monday morning.
Click
here
to watch an early-arriving Geminid streak past the Moon on Dec. 9th.
"That was a good one," says NASA astronomer Bill Cooke, who recorded the meteor using an all-sky camera at the Marshall Space Flight Center in Huntsville, Alabama. "We should see many more this weekend." Cooke and colleagues are broadcasting a
live video feed
from their camera, which will monitor the skies over Huntsville throughout the Geminid meteor shower. The soundtrack is a 55 MHz forward-scatter meteor radar located near the optical camera.
Got clouds? If you can't see the Geminid meteor shower, try listening instead. The US Air Force Space Surveillance Radar is scanning the skies above Texas, and when a meteor passes overhead--ping!--there is an echo. Tune into
Spaceweather Radio
for live audio.