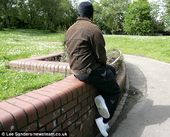 A British man spoke publicly for the first time yesterday to accuse MI5 officers of forcing him to confess to masterminding the July 7 bombings.
Jamil Rahman claims UK security officers were behind his arrest in 2005 in Bangladesh.
He says he was beaten repeatedly by local officials who also threatened to rape him and his wife.
Mr Rahman, who is suing the Home Office, said a pair of MI5 officers who attended his torture and interrogation would leave the room while he was beaten.
He claims when he told the pair he had been tortured they merely answered:
'They haven't done a very good job on you.'
Mr Rahman told the BBC: 'They were questioning me on the July 7 bombings, showing me pictures of the bombers.
'They showed me maps, terrains ... they asked me to draw things out and write names next to pictures.
'They threatened my family. They go to me,
"In the UK, gas leaks happen, if your family house had a gas leak and everyone got burnt, there's no problems, we can do that easily".'
He says he eventually made a false confession of involvement in the July 7 bomb plots.
The extraordinary allegations will add to pressure on UK ministers to come clean over the way Britain's intelligence agencies have been allowed to gather evidence around the world in the eight years since the September 11 attacks.
Jamil Rahman, a former civil servant from south Wales, is a British citizen who moved to Bangladesh in 2005 and married a woman he met there. He returned to the UK last year.
He said: 'It was all to do with the British. Even the Bengali intelligence officer told me that they didn't know anything about me, that they were only doing this for the British.'
Mr Rahman, 31, says he was released after three weeks but re-arrested and mistreated repeatedly over the next two years.
He described how two men he believes were British agents would leave the room for 'a break' while he was beaten.
They often asked: 'We're not torturing you, are we?' and recorded his confirmations that they were not, he alleges.
'The first time they tried to be friendly, they came in trying to show they were my friends, calm and relaxed, nothing wrong.
'I tried to demonstrate my innocence. I thought this is wrong, because they were British I might get some justice.'
He added: 'They showed me hundreds of pictures. Black, white, Chinese, bearded non-bearded, woman, man, young and old. Every time, they came for a new session, same pictures with new ones.
'The main thing they wanted me to be is a witness against another British man in Bangladesh. They pressured me so much to be a witness against this guy in court.
Mr Rahman denies being a terrorist, although he admits attending meetings in Britain of the radical Islamist group al-Muhajiroun - claiming he later rejected their extremist ideology.
A Home Office spokesman said: 'We firmly reject any suggestion that we torture people or ask others to do so on our behalf.
'Mr Rahman has made a lot of unsubstantiated allegations. They have not been evidenced in any court of law.'
Jamil Rahman is one of a number of former detainees who accuse the British Government colluded in their torture abroad.
His account echoes that of former Guantanamo Bay detainee Binyam Mohamed, who said he was tortured in Pakistan and Morocco with MI5's knowledge.
The 30-year-old Ethiopian says he was beaten and deprived of sleep to try to make him confess to an Al Qaeda 'dirty bomb' plot, and his treatment is now the subject of an unprecedented police investigation into MI5's conduct.