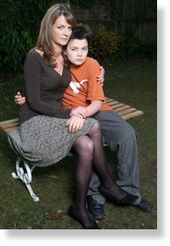 A few weeks ago, a one-woman campaign culminated in Polly Tommey meeting the Prime Minister to improve support for the families of children with autism.
She was fighting for the sake of thousands of other parents around the country, having become an unofficial 'Good Samaritan' for the desperate parents of autistic children.
Here, Polly, 42, the mother of an autistic child, tells her extraordinary story . . . months that was the case with Billy.
Any normal child would have been taken to A&E at some point and given a battery of tests, but with autistic children doctors say it's just part of their autism.
Billy stopped eating most things, and eventually all that was left in his diet was cow's milk and Weetabix. He was so skinny his hair started falling out, and he had sores all over his lips and up his arms.
Then, one day, a leaflet dropped through my door explaining how a wheat and dairy-free diet could help autistic children. Jon was sceptical, but I thought it was worth a try.
I replaced cow's milk with rice milk and began baking gluten-free biscuits, which I gave him instead of Weetabix. Billy starved himself for a few days then began eating the biscuits - and, amazingly, his gut problems started to get better.
That really woke Jon up, because he thought if Billy could improve just by making a change to his diet, what else could be done? He found an organisation called Allergy Induced Autism, and through them we met other people who were doing things to help autistic children.
Jon flew to the States for a Defeat Autism Now! (DAN!) conference and learned how biomedical intervention could help. He threw himself into finding help for Billy and re-trained as a clinical nutritionist.
At the time, Jon was David Liddiment's personal trainer. David was head of LWT (London Weekend Television) then, and during a run one day, Jon told him that we were going to try treating Billy with the hormone secretin, which stimulates the pancreas.
Billy still suffered terrible constipation, and we thought it would help regulate his gut. It worked and Billy's behaviour improved.
That was ten years ago and as Billy was the first British child to try secretin, David suggested that Trevor McDonald follow his progress on the
Trevor McDonald Tonight
show. We set up a website for anyone who wanted to know more about secretin. It got 150,000 hits, the computer crashed and LWT couldn't cope with all the inquiries.
We'd thought that by doing the programme, we'd find other people who knew of other treatments that could help Billy. Instead, we were inundated with people asking us for help. It frightened me, because I thought if people were asking me, then there really wasn't any help out there.
People did contact us with interesting information, though, so I wrote to them and said I'd put it together in the form of a magazine, so they could all share it and start a de bate.
The
Autism File
was born - ten years on, we run it from our room and dressing room in our in Hampton, Middlesex. The magazine's circulation is 44,000 and it's on sale nationally for £4.95. We get around 50 calls from parents, and the phone calls until 1am with people calling the States.
There are four of us, including Jon, who answer the calls and no one gets paid any more than expenses - but I do make the helpers lunch and sometimes I manage to draw a small wage.
We get calls from fathers who cope with the stress. One father told us how every week, without fail, his 22 year-old son, who has Aspergers -a form of autism - gets beaten up. Mothers are distraught be their husbands have left the have had affairs. Another father couldn't take his son to the supermarket because every time they he pees on the fruit and vegetables.
We get calls from Asperger's sufferers who have little or no support - three have committed suicide. Two mothers have committed suicide with their autistic children because they couldn't cope.
It's desperate and I am not trained to deal with any of this. All I can do is listen and advise where I can.
Just before Christmas, I took a call from a mother who couldn't find a school for her autistic son. He was constipated, she had no money and her husband had left her. The only way she could sleep at night was to drink a bottle of wine.
I was on the phone for over an hour, and when I put the phone down I felt so angry on her behalf that I just felt we had to do something.
We sat down and decided that people needed to know what the families of autistic children have to go through: how little support there is for autistic children and families. We also want people to know that the mothers aren't downtrodden, illeducated women who somehow deserve to have an autistic child - so we hit on the idea of a photo of the glamorous mothers we know.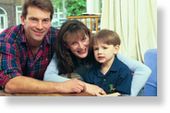 Jon called Terry O'Neill and asked if he would take the photo. He said that of course he would. I called Peter Mead, the creative director of the ad agency AMV DDBO, which has clients such as BT and Walkers Crisps and where I had worked as a temp, and he too said he would help.
The project snowballed and we had a £500,000 national advertising campaign which appeared on around 4,000 billboards and posters. Everyone involved has donated their time and skills free.
The main campaign was a series of 'Dear Gordon Brown' letters, asking the Prime Minister to contact me so we could discuss a way forward. We finally met earlier this month and I told him about the Autism Trust - the charity we've set up.
There is so much misinformation out there, and so little understanding from health professionals, emergency services and the authorities that it makes caring ten times harder.
One mother, who had a 40-year-old autistic son, managed to get him a job working at the local library for two hours a day. He was fine as long as he got on and off the bus in the same place and followed the same routine. He had some independence and his mother had some respite.
Then, on the way home one day, a baby on the bus started crying. Lots of autistic people are incredibly sensitive to noise, so this man stood up, covered his ears and started screaming to block out the noise. The bus driver called the police and the man was taken away and sectioned.
His mother didn't see him for six months and by the time she got him back he was pumped full of drugs and could only sit rocking backwards and forwards in his bedroom. All her hard work had been destroyed.
The cost of life care for an autistic person is around £;2.9 million, but we think that with the right help that could be massively reduced.
It would cost £10million to set up an autism centre where we could educate the police, magistrates, teachers and anyone else who comes into contact with autism. It would also be a drop-in centre for parents to get advice on education and treatment for their children.
There are amazing things being done to help autistic kids, particularly with biomedical intervention - detoxifying children through supplements and probiotics, diet, speech therapy and behaviour analysis. Some children respond so well they are taken off the autistic spectrum and can return to mainstream school.
But very little of this help is available on the NHS, or through the local education authority.
I mentioned all this to Gordon Brown when I met him, and he was incredibly supportive. In fact, our meeting couldn't have been better. He loved the billboard campaign and said it was genius.
Gordon wants me to work with his wife Sarah to bring all the autistic organisations together so that we can work for a common cause. He wants there to be more understanding towards autistics, and for them to be more included in society.
For that to happen, the public sector needs educating, so he wants his representatives to attend a conference that our charity, The Autism Trust, is running in October. We want doctors, scientists and the public sector to learn more about dealing with autistic people.