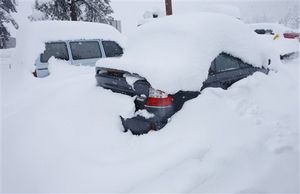 Denver - Hundreds of stranded travelers resumed their journeys Saturday after spending the night at shelters when a powerful spring storm walloped the Rocky Mountains and foothills west of Denver with more than 3 feet of snow.
Officials reopened an 80-mile stretch of Interstate 70 between Golden and Vail that had been closed Friday, said Colorado Department of Transportation spokesman Bob Wilson. Drivers were cautioned to expect heavy traffic and sloppy road conditions.
"It's not the I-70 you know in a June afternoon," Wilson said.
Storm warnings were dropped as the bulk of the storm moved east into Kansas.
About 15,000 homes and businesses were without power in Denver and areas north and west of the city. The heavy snow had weighed down power lines and tripped system circuit breakers. Piles of snow and closed roads were preventing crews from reaching some areas, Xcel Energy spokesman Joe Fuentes said, adding that crews hoped to restore power by 11 a.m. Sunday.
About 3 to 10 inches fell in Denver, but the heaviest of Friday's snow dropped on the foothills west of the city, with 52 inches at Pinecliffe and 36 at Black Hawk, said National Weather Service meteorologist Carl Burroughs.
April is one of the third snowiest month in Colorado, behind March and November, he said.
Some airlines canceled or delayed flights at Denver International Airport even as snow turned to rain Saturday, and travelers were urged to check on their flights before leaving home.
United Airlines, the dominant carrier at DIA, canceled 76 flights Friday, 14 on Saturday and delayed several others, said spokeswoman Robin Urbanski.
The snow had prompted the closure of I-70 between Vail and Golden, and more than 500 people spent the night at American Red Cross shelters in Idaho Springs and Georgetown. The National Guard delivered two truckloads of cots, blankets and food.
About 90 travelers stayed at an elementary school in Idaho Springs. Shelter manager Linda Broom said they came from all parts of the country - including Alaska, Utah and Washington, D.C.
"They were really most appreciative and in good spirits because it was pretty late and they had been sitting in traffic, they slept well," Broom said. "One slept extremely well, as we could all hear."
The shelters shut down Saturday.
The storm triggered numerous traffic accidents across Colorado. One person was killed Friday in a two-vehicle crash on Colorado 52 in Weld County, near Fort Lupton, said Colorado State Patrol spokesman Gilbert Mares. Information about the victim was not immediately available.