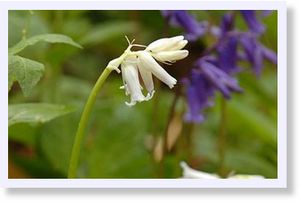 The "albino" flowers lack the pigment that gives bluebells their traditional purplish blue colour.
They were found growing among a mass of blue flowers at Bluebell Wood in Ferry Meadows Country Park, Peterborough.
Ashley Wheal, ranger at the park, said: "We only have two white plants, so they are very special.
"It is very, very strange, probably only happening in one in every 10,000 bulbs.
"I don't think there is anything we can do to encourage more to grow, but they are very close to the path for anyone who wants to have a look."
White versions of the Spanish variety of bluebells, introduced 200 years ago, are relatively common, but these are the much rarer native British type.
Botanist at the Natural History Museum, Dr Frederick Rumsey, said: "Every species of bluebell will produce white-flowered forms, and these lack the purplish blue pigment which you find in the typical form - the colouration being under genetic control.
"Although these are fairly uncommon in truly wild populations, they have often been collected and, therefore, you see more white, and other coloured forms in gardens."