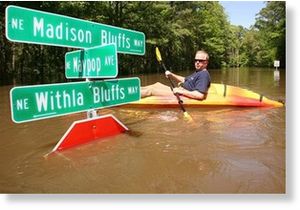 Tampa - Forecasters reported two tornadoes touched down in the Tampa Bay area as a line of storms Tuesday ripped roof shingles off homes, uprooted trees and forced the evacuation of school children in trailer classrooms on Florida's west coast.
No injuries were immediately reported. It was the latest round of bad weather to hammer the South after heavy rain and strong winds Monday that hit Alabama, Tennessee, Georgia, Kentucky and northern Florida, still reeling from storms and tornados last week.
The National Weather Service issued a tornado watch for 20 Florida counties until Tuesday afternoon.
"To our knowledge, there's been no true structure damage and no injuries," said Jim Martin, Emergency Management Director for Pasco County, where at least one twister was spotted Tuesday morning near Holiday, about 30 miles northwest of Tampa.
Martin said about 20 to 25 homes suffered damage from high winds and one car flipped over.
Forecasters said a band of storms swept through Pasco and northern Hillsborough and Pinellas counties just after 9 a.m.
Students in Hillsborough were evacuated from trailer classrooms in the northern part of the county. The pupils were brought into permanent school buildings for shelter and parents were instructed not to come to pick up their children.
Emergency management officials in Marion County in north-central Florida received reports of possible tornado sightings, downed power lines and other damage, including one home where a tree had fallen on the roof. No injuries were reported, a sheriff's spokeswoman said.
Progress Energy spokeswoman Suzanne Grant said 35,000 customers were without power as of noon, mostly in the Ocala area in central Florida and in southern Pasco County, just north of Tampa. The Tampa Electric Company said about 770 customers had lost power.
The storms passed through the Orlando area, knocking down trees and blowing shingles off roofs, but no significant damage was immediately reported. Orlando International Airport reported delays of up to one hour.
A day after high winds were blamed for toppling trees that killed one person each in Tennessee and Georgia, more blustery conditions were reported across the region.
In northern Florida, spotters reported that a tree fell on a car, injuring two people. Their conditions were not immediately known.
In other parts of Florida, officials were carefully watching to see if Tuesday's rains would cause more flooding on the Santa Fe, lower Suwannee and other rivers across the Panhandle.
Atlanta-area crews were still clearing up fallen trees and working to restore power and traffic lights after squalls Monday pushed through Georgia.
About 43,000 Georgia utility customers were still without power early Tuesday, most in the Atlanta area. That was down from more than 290,000 at the peak.
Darkened traffic lights on some major roads Tuesday morning added to commuting headaches.
Georgia Power spokeswoman Konswello Monroe said power may not be restored to all Atlanta-area customers until Wednesday evening.
Thousands of Alabama Power customers were also without electricity after storms downed trees and power lines.
Alabama Power spokeswoman Keisa Sharpe said crews hope to restore service by Tuesday night to most of the 61,686 customers who were without power, about half of them in the Birmingham area.
But Sharpe said several Birmingham-area residents might be without power until Wednesday evening.
A total of 22,290 customers were without power in the Tuscaloosa area and 6,096 in the Anniston area.