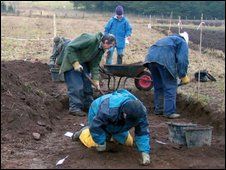 Archaeologists have discovered the earliest evidence of human beings ever found in Scotland. The flints were unearthed in a ploughed field near Biggar in South Lanarkshire. They are similar to tools known to have been used in the Netherlands and northern Germany 14,000 years ago, or 12,000 BC.
They were probably used by hunters to kill reindeer, mammoth and giant elk and to cut up prey and prepare their skins. The discovery conjures up a picture of wandering groups of hunters making their way across dry land where the North Sea is now, after the end of the Ice Age. The details are revealed in the latest edition of
British Archaeology
magazine. The editor, Mike Pitts, said the finds were "the most northerly evidence for the earliest people in Britain".
Similar finds have been made in England, but they have mostly been south of the river Humber. Up until now, the earliest evidence for humans in Scotland has come from sites such as Cramond, near Edinburgh. Waste pits and discarded hazelnut shells found there have been dated to about 8,500 BC.
Tam Ward, from the Biggar Archaeology Group, which carried out the dig, said: "To push Scotland's human history back by nearly 4,000 years is remarkable. "We didn't set out to do that," he added. "What we wanted to do was tell the story of the landscape." He warned that "a lot of people won't believe this. Not until they see the hard evidence". "But it'll be great fun proving them wrong. We've got the physical objects, so we can just put them down on the table and say argue with that".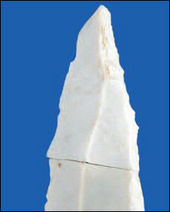 At first the flints were thought to date from the Neolithic period - about 3,000 BC. But their true significance was later realised by Torben Ballin, an expert in stone finds, and Alan Saville from the National Museums of Scotland. Mr Saville told BBC Scotland: "There would have been a temporary camp site where the flints were found, so there's a faint possibility that there might be post holes and waste pits there."
He added that the chances of finding that evidence were "fairly slim, but we live in hope". He said the diggers from Biggar were planning to go back to the site in the summer to explore it further. Historic Scotland provided some funding for the work.