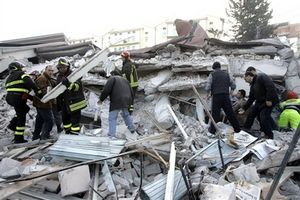 A strong earthquake measuring 6.7 on the Richter scale has rocked central Italy, killing at least 27 people and causing severe damage.
The early Monday temblor was centered in the Abruzzo region's capital l'Aquila, about 95 Kilometers (60miles) northeast of the capital Rome at a depth of 10 kilometers, according to the US Geological Survey.
Among the dead are an elderly woman and a baby girl who were crushed in a building in the medieval town of Fossa and four other children who died in l'Aquila when their house collapsed, local media reports said.
Police also confirmed that five other people were killed in the small town of Castelnuovo.
Meanwhile, at least half a dozen university students remain trapped after their university dormitory in l'Aquila was destroyed, Italy's RAI TV said.
Another 30 people have also been reported missing as hundreds of homes including the town's main church have been destroyed.
The country's public safety chief Guido Bertolaso said the earthquake will surely claim "many victims".
Television footage of l'Aquila showed a number of collapsed buildings and rubble blocking most of the streets, burying some parked cars as dozens of rescue workers searched for survivors in the ruins.
The quake which was also felt in Rome has caused panic among the 70,000 inhabitants of the old city, many of them abandoning their homes and running out into the street.
The earthquake came just hours after a 4.6-magnitude tremor, which was exceptionally deep at some 28 kilometers (17 miles), shook Italy's north-central region on Sunday with no reports of damage.
Italy is criss-crossed by two fault lines, with some 20 million people at risk from earthquakes.
Deadly tremors of the past include an October 2002 quake that killed 30 people in the tiny medieval village of San Giuliano di Puglia and a violent quake on November 1980 which struck the southern region of Irpiona near Naples, killing 2,570, injuring 8,850 and displacing 30,000.