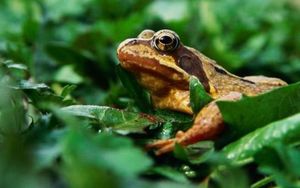 Frogs, newts and other "pond life" found at the bottom of the garden are to be counted in the first UK survey of reptiles and amphibians.
Hundreds of frogs, toads, snakes and lizards can live at the bottom of town and country gardens.
However global warming and development means many species are increasingly at risk. Of the 13 species of amphibians and reptiles native to the UK, 10 are considered endangered including the great crested newt, natterjack toad, adder and pool frog. Other species like grass snakes or common frogs are also suffering from habitat loss.
The national "stock take" of newts, toads, snakes and other traditional "garden pests" has been organised by a network of conservation groups including the British Trust for Ornithology and Froglife.
The survey will be relying on members of the public noting down sightings of animals like slow worms, smooth newts and common frogs and sending the information via the post of internet.
Daniel Piece, Froglife Head of Conservation, said public involvement was the key.
"This stock-take will be a benchmark in our understanding of these animals in urban areas and the results will guide the advice we give to the public on what they can do to help these unique and charismatic creatures in our backyards."
John Baker of the Herpetological Conservation Trust added: "This is the largest survey of these species focused on our gardens in Britain and has been designed to compliment other studies that are tracking the fate of amphibians and reptiles in the British countryside."
To find out more email gbw@bto.org or phone BTO Garden Ecology on 01842750050.