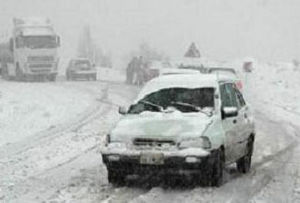 Strong winds, heavy rain, sleet and snow in Iran have blocked roads, keeping Iranians contained in the middle of New Year holidays.
When snow begins to melt, people count it as a sure sign of the coming spring. With the Iranian New Year celebrated on March 21 to signal the first day of spring and to mark the revival of nature, many Iranians pack their bags and spend their holidays traveling.
This year, forcing many to cut back on their holidays and shocking many others trapped in roads, 10 to 20 centimeters of snow has blanketed the western part of the country.
Meteorologists say the snow, which has been falling since Monday evening, is expected to continue throughout the country until late Wednesday, with temperatures expected to fall to 10 degrees Celsius in some regions.
Scores of main roads are blocked and trucks have been called in to clear highways in various provinces including Zanjan, Isfahan, Lorestan and Qazvin.
Snow-covered fruit blossoms and fruit trees have been damaged by winds of up to 64 kilometers per hour and snow, which fell steadily for many hours.
The damage to crops caused by the late spell of snow and heavy winds could have a significant economic impact on production
in the New Year and result in a downturn in agricultural revenues in affected regions.
Furthermore, blossoms are an iconic symbol of spring and early blossoming in the season reflects a strong indication of steadily rising global temperatures according to the scientific community.