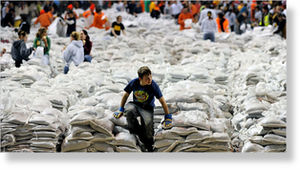 For some residents in the neighborhoods closest to the fast-rising Red River here, the last-minute announcement by anxious city officials that they would build a second set of dikes to protect the heart of this state's most populous city was anything but soothing.
In fact, hundreds of homeowners now could find their properties sandwiched between the city's first 12-mile-long dike and the new line of defense. Record water levels are expected by Friday afternoon.
"What you're saying here is that we're on the wrong side of the world?" Laura Krupich, a resident of the South Acres neighborhood in Fargo, asked a city commissioner as she found her house on a map showing the new earthen and sandbag levees.
Ms. Krupich's house, according to city planners' estimates, may not be protected by the city's second "contingency" dikes. There was even concern that houses between the two sets of dikes could be in particular danger if the first one breaks but the second one holds.
It was an alarming prospect, particularly as weather forecasters said the river would rise still higher than expected, nearly two feet higher than its record nearly a century ago. Later in the day, city officials recommended that people living in homes between the dikes consider evacuating.
"These are brutal choices," said Dave Piepkorn, the commissioner. With a pained look, he told Ms. Krupich that he hoped the city's first line of defense would hold but that she should be prepared to get out fast. Park your cars elsewhere, Mr. Piepkorn said. Plug your toilets.
"You know these are people's houses we're talking about, and it just gets to you," he said later, shaking his head. "But we also have to be responsible for the city as a whole."
So went many of the troubling decisions here and elsewhere in North Dakota and Minnesota this week, where river and stream levels have overwhelmed communities, swamped some homes and roads and rural towns, and are threatening cities like this one.
The authorities here had to choose which roads to plow when snow just kept falling and which to leave impassible. They had to pick where to pile sandbags still higher and where not to. And in some low-lying sections already full of frigid waters, they had to decide which people to evacuate first by airboat.
"We are not abandoning anybody," Mayor Dennis Walaker of Fargo said, after hearing from nervous and upset residents who were told they would soon find themselves sitting "on the wrong side" of the planned second line of levees. "That was never the intent." Mr. Walaker estimated that a thousand homes lay between the dikes.
Still, the mayor said that given the record amount of water now expected here - the icy river was already sloshing up against the bridges that connect this city to neighboring Moorhead, Minn. - Fargo needed to put extra protection around the bulk of the city and crucial elements of its infrastructure, like its water and sewer systems.
City officials also decided later in the day to make the dikes one foot higher and to close major arteries so they could be devoted to trucks carrying sand.
"We do not want to give up yet," Mr. Walaker said. "We want to go down swinging - if we go down."
In some rural areas to the south of this city and elsewhere, water had already filled homes. White caps, one law enforcement officer said, could be seen around what had once been farm fields. The authorities ordered about 100 people to evacuate, including residents of a nursing home, after cracks appeared in one dike. In Minnesota, evacuations were also ordered in Moorhead.
And while sheriff's officers south of Fargo rescued scores of people and animals from submerged - or soon to be submerged - homes, other residents, equipped with water, food and rubber waders said they were staying put. They were trying to protect their homes with rings of sandbags, though many of those homes were now unreachable because water covered roads all around them.
Around Bismarck, the state capital, flooded neighborhoods sat empty as demolition crews battled dangerous ice jams on the Missouri with explosives. Water levels had dropped some there, offering hope.
"Our biggest concern is an ice jam in the river just 10 miles north of Bismarck, which we're hoping does not dislodge," said Bill Wocken, that city's administrator. "An ice jam is kind of like my teenage daughter. Sometimes there is just no way to predict what they'll do next."
In Grand Forks, which was devastated by flooding in 1997, two of the three bridges leading in and out of town were already closed. But city officials seemed hopeful that a $409 million Army Corps of Engineers flood protection project, completed two years ago, would save the city from the Red River this time. "We remain cautious, vigilant and watchful," said Kevin Dean, a city spokesman.
In Fargo, near Harwood Drive, the second line of levees was expected to be built overnight on Thursday. Ten homes, among the fanciest in the city, were to be left between the old and new dikes.
"We'll be on the wrong side of that thing," said Ron D. Offutt, whose stately home sits at the end of the road. Mr. Offutt said, "We know that they've got to protect the rest of the city and we understand that."
But he said he and a team of his own warmly dressed workers had a project of their own under way: a four-foot-high ring of sandbags around his house.