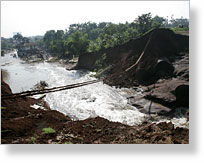 Heavy rains caused a large dam in a crowded urban area on the outskirts of Jakarta to burst early Friday morning, sending a deadly wall of water and mud crashing through hundreds of houses, killing at least 60 people, police said.
The dam broke at about 2 a.m., tearing through a low-lying valley, surprising residents in their sleep, witnesses said. Within minutes, several whole neighborhoods were ensconced in mud and water.
Rescue workers clawed through thick mud and dredged houses and roadways Friday afternoon looking for survivors. Hundreds of residents were being evacuated to a nearby university where family members were searching through bodies for loved ones. Police said the death toll could be higher as more victims are found.
"They lived right here but their house is destroyed," said Sobi Ahmansur, 62, about her missing daughter and five month old granddaughter. "I'm scared, I love them so much. I have to keep searching."
Residents of the mostly middle-class, university neighborhood, described the disaster as being similar to a tsunami - a huge 10-meter high wall of water, they said, crashed through the valley, ripping up everything in its path.
"I woke up to the sound of my neighbors screaming for help," said Jarko, 34, whose house was flooded up to his chest. "I ran out of the house, found my friends and ran for higher ground."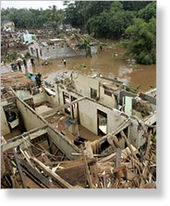 President Susilo Bambang Yudhoyono, Jusuf Kalla, the vice-president, and Aburizal Bakrie, the minister for people's welfare, all visited the disaster area Friday afternoon, speaking with rescue workers and residents. Mr. Kalla told reporters that the government would help relocate victims who lost their houses.
The Situ Gintung dam was built during Dutch colonial rule to contain water from the Pasanggrahan River. Authorities have long been concerned about the dozens of aging dams and levees in Jakarta, a city that regularly suffers from severe flooding during the rainy season.
Prolonged heavy rain on Thursday is thought to be responsible for causing the dam to finally give way, causing the 20-hectare lake to flood the area.
"The dam will be rebuilt and we will reconsider how it is constructed," Mr. Yudhoyono, the president, told reporters during his visit to the scene.
The military cleared debris to help reduce the level of water, while rescue teams with long poles searched for victims in both the water and the mud into the evening Friday. Other rescue personnel searched through gutted houses, tossing aside debris in the hopes of finding survivors.
A local leader, Nana Suharna, said dozens were still missing in his neighborhood, which consists of 60 families, and that so far he had counted at least 70 people killed by the landslide, though that number could not be confirmed by officials. The entire family of a local Islamic leader, who performed the call to prayer at 4:30 a.m. from high in a tree, Mr. Suharna said, were missing and presumed dead.
"The water came so fast and just kept getting higher and higher," said Mr. Suharna, 48. "I am in charge of about 60 families here and many of them are still missing."