The winter storm that swept across New Brunswick on Monday blew in record levels of snow in some parts of the province.
Some of the snowiest places following Monday's blizzard were McNamee, near Boiestown, which saw more than 65 centimetres of snow fall, as well, Kouchibouguac, on the province's east coast, witnessed 60 centimetres of snow fall.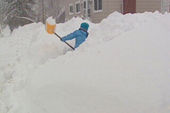 Bathurst residents were digging out from 55 centimetres of snow, which set a new record for the northern city in terms of snowfall in one day in February.
Bathurst Mayor Stephen Brunet said the cleanup is continuing from Monday's record-breaking snowfall, one of the worst winter storms he can remember.
"You're driving down the street and you're going down like a snake. You know, there's nothing straight on our streets at all because of the snow," Brunet said.
Additionally, 48 centimetres of snow fell on Fredericton, 37 centimetres on Saint John and 21 centimetres in Moncton.
No records set
For Fredericton residents, the 48 centimetres brought the pain of shovelling, but fell just short of setting a snowfall record.
Even though no records were set on Monday, residents of the capital city are correct in thinking those snowbanks they are creating are higher than normal, according to Claude Côté, an Environment Canada meteorologist.
"We do have 71 centimetres of snow on the ground. So that is the snow that is measured. It is somewhat unusual - I had to go back to 1987 when we had 72 centimetres of snow on the ground," he said.
"So it has been about 22 years that we have had that much snow on the ground."
The record for the most snow in a single day in Fredericton was for 49 centimetres of snow on Feb. 4, 1988. Fredericton usually gets an average of 50 centimetres for the entire month of February.
More snow coming
Environment Canada said the province is not done with the white stuff just yet.
Dave Phillips, an Environment Canada climatologist, said the snowfall so far this year has been average but there's still another third of winter to come.
"This latest storm ... is what we call a snow bomb," he said. "It intensified very quickly in a very short period of time, got refuelled over the Bay of Fundy and the Gulf of Maine and slammed into southern New Brunswick, and boy, it brought a lot of snow in a short period of time."
While New Brunswickers should keep their snow shovels handy, the latest forecast is bringing some relief to those who are tired of clearing snow.
Phillips said milder temperatures are expected later this week, including Friday when it should be 8 C and rainy.
Andrew Holland, the spokesman for the Department of Transportation, said the province's road crews have managed to get snow-cleaning operations under control.
"The crews have had the opportunity to get out and do what they need to do. Most of the highways in the province are reporting bare full-width conditions with some slush," Holland said.
"The secondary roads have been upgraded significantly with the crews going back into many rural areas and secondary roads to clean them up and make them wider since [Tuesday] morning, so we're pleased with that."
Holland said crews will work at pushing snow back from the roads. That's needed to try to lessen the amount of water on the roads from melting snow, which could subsequently turn to ice in freezing temperatures.