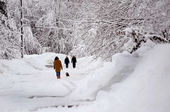 National Weather Service meteorologist Eric Schwibs says Sunday's snowstorm was the season's "highest impact event in terms of damage" because the snow was wet and heavy.
"It caused quite a bit of damage to the power grid as far as outages," Schwibs said. "I was driving home last night watching the transformers blow."
There were some impressive snowfall totals, with Livermore Falls topping out at 21 inches, Turner at 19 and Lewiston-Auburn saw 15½. Winds blowing at 35 to 40 miles per hour made the storm feel and look worse.
"This was a classic track for a snowstorm like this for us. The only real difference was the wetness and the heaviness of the snow," NWS meteorologist Jim Hayes said. "This one was more like what we'd normally see in mid to late March."
Power outages added to people's sense of frustration. Gail Rice, spokeswoman for Central Maine Power Co., said the total number of customers without power was just over 130,000 at 11 a.m. Monday; 11,000 of those customers were in the Twin Cities and surrounding area.
"The highest concentration of outages were for customers out of our Brunswick service station," Rice said.
Crystal St. Hilaire of Minot was without power from Sunday night until 2:30 p.m. Monday. She said she was equally frustrated by having no power as she was by having to clear the snow.
"I wanted to register my car today, but town hall was closed. I had so much to do today and couldn't do any of it," St. Hilaire said.
Tom Martellone of Auburn, principal of Greene Elementary School and a snowboard enthusiast, got an additional day off from school, but wasn't able to enjoy the fresh snow at the slopes. And like St. Hilaire, he was another of the 11,000 area people without power.
"I have power now. Clearing the heavy snow was worse for me. The power came back on faster than I could get the snow cleared," Martellone said Monday.
The biggest cause of outages was tree contact with wires, said Rice, though the storm wasn't the worst for lost power this winter. December's ice storm claims that honor. It left 220,000 customers without power.
As of 6 p.m. Monday, 425 line and tree workers were on the roads making repairs, while CMP said the number of its customers still in the dark had fallen to just over 81,000.
Rice cautioned people to stay away from downed lines. They are never safe to be touched or moved; always call CMP to report down lines, she said.
Street crews in Auburn were busy keeping up with snow plowing and overcoming obstacles. Bob Belz, director of Auburn public works, said the most difficult thing for the crews clearing snow was maneuvering around corners in the heavy, wet snow, as well as turning on dead-end streets.
"Neighborhood streets that are fairly narrow, getting the trucks around the corners and trying to push that much weight is difficult," Belz said.
Crews frequently had to back up, which is common in some areas, and one plow backed into a utility pole, breaking it, he said. Other problems: High snowbanks leave little room to put the snow cleared from the roads; cars parked on the sides of roads that had to be moved or towed, and neighborhoods in New Auburn that weren't fully plowed because the truck assigned to that route was out of service.
Belz said crews would continue clearing snow throughout Monday night, and keep streets salted and sanded because colder temperatures were expected to cause icy roads. He estimated that Auburn would use 150 tons of salt and 400 yards of sand for the storm.
Meteorologist Hayes said that compared to last year's snowfall total of 102 inches by the end of February, this year has seen only roughly 80 inches. That number is still above normal for this time of year.
"We're looking at a relatively calm period in the sense that we'll probably see sun and clouds during the day through Wednesday, maybe a few snow showers during the day Thursday or Friday," Hayes said. "It's Maine and it's February - it's going to snow."
For anyone anxious to see the last of this year's snow, meteorologist Schwibs notes we'll be setting clocks forward on March 8, and spring arrives March 20.
Fresh ski area powder numbers during the past 24 hours:
Sugarloaf: 27 inches
Sunday River: 20 inches
Shawnee Peak: 26 inches
Saddleback: 20 inches
Lost Valley: 23 to 25 inches
(Source: skimaine.com)
Area snowfall totals:
Farmington: 26.2 inches
Livermore Falls: 21 inches
Lewiston-Auburn: 15½ inches
Poland: 17 inches
Gray: 15 inches
South Paris: 24 inches