Fairbanks - Ester photographer LeRoy Zimmerman made the switch to digital cameras this year to better capture the phenomenon known as the aurora borealis.
Now he just needs some aurora to work with.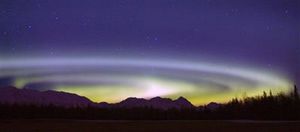 "There's nothing; it's really disappointing," Zimmerman said. "I've got my digital camera. I'm ready. Let's go."
Zimmerman isn't the only one wondering where the aurora borealis, commonly referred to as northern lights, are this winter. The Interior's normal wintertime light show has been noticeably absent this winter.
"I talk to people in town and everybody who knows what I do asks me, 'Where is the aurora? What's happening?'" said Dirk Lummerzheim, a research professor who studies the aurora borealis for the Geophysical Institute at the University of Alaska Fairbanks.
It's a legitimate question, and Lummerzheim has the answer.
"We are at the solar minimum," the UAF professor said. "When solar activity dies down like this, the aurora activity also diminishes in the north."
Aurora borealis, a curtain-like, luminous glow in the upper atmosphere, is caused when energy particles from the sun collide with the Earth's magnetic field.
Solar activity runs on a 22-year cycle - 11 positive years and 11 negative years. The cycle is at the bottom of the negative cycle, Lummerzheim said.
This is the second winter in a row the aurora has been "quiet," as Lummerzheim put it. Normally, the low in the solar cycle only lasts about a year, he said. Lummerzheim described the current solar minimum as "very long, very deep."
"I think the last time we had a minimum this low was early in the 20th century," he said.
"If you look at the sun, I think we've had one sunspot group this year," Lummerzheim said. "When we get into the maximum phase, it has lots of sunspots and all kinds of things going on all the time. There are big explosions."
Neal Brown, respected aurora scholar and retired UAF professor, said the low in the current solar cycle is the most dramatic he has witnessed during his time in Fairbanks.
"I've lived here for 45 years, and we've had four solar cycles, and this is the worst one for me," Brown said. "It's just been pitiful. I don't think there's been three or maybe four half-hour to hour-long displays this winter.
The lack of an aurora has not been lost on businesses that cater to aurora viewers, specifically the hundreds of Japanese tourists who flock to Alaska each winter on direct flights from Japan to see the northern lights.
"It hasn't been as good a year as usual," said Jenny Kirsch, assistant general manager at Chena Hot Springs Resort, a popular aurora viewing spot for many of the tourists. "Colors are hard to find."
Mok Kumagai at Aurora Borealis Lodge on Cleary Summit agreed. The aurora displays during the past two winters have been weak, he said.
"The impressive aurora hasn't been as frequent," Kumagai said.
While he has been able to snap some decent pictures of the aurora, Kumagai noted that a camera tends to enhance what the naked eye sees, making the aurora more colorful and pronounced.
"Some of the days we're getting photos, and it's nice through the camera, but with the naked eye you can barely see it," he said.
Brenda Birdsall at Mount Aurora Fairbanks Creek Camp on Cleary Summit agreed, but she said most of the Japanese tourists they cater to seem satisfied with what they see.
"What seems dull or slow to us is still impressive to them," Birdsall said. "They're out there clapping and cheering."
Even without impressive aurora to see, most of the Japanese tourists that arrive on flights from Japan Airlines are impressed with Alaska, she said.
"They're so enthralled with Alaska and the outdoors and the openness," Birdsall said. "They get enough of a sensation of what it could be. We just hope they have a good enough experience that they will come back."
Likewise, Kirsch said aurora viewing at Chena Hot Springs is "only part of their experience."
"They usually get to see enough to keep them happy," she said. "Unfortunately it's the one thing we can't necessarily control."
For those looking for an aurora fix, Zimmerman is preparing a digital aurora show that will debut at Lacey Street Theater on Friday. Zimmerman, owner of PhotoSymphony Productions, projects panoramic pictures of the aurora set to classical music.
Zimmerman is still hoping to get more photos of the real thing before the winter is over.
"We're headed toward March and April, which are generally the best aurora viewing months," he said. "It could suddenly just explode."