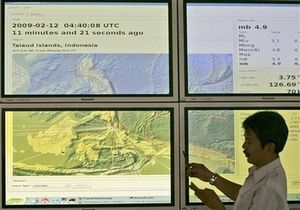 Jakarta - A powerful earthquake off eastern Indonesia briefly triggered a tsunami warning Thursday, causing a stampede of residents to higher ground. Hundreds of building were damaged and at least 42 people were injured, some seriously.
The U.S. Geological Survey said the 7.2-magnitude quake struck at 1:34 a.m. (1734 GMT; 2:34 p.m. Wednesday EST) and was followed by nearly a dozen aftershocks.
The temblor was centered approximately 195 miles (320 kilometers) from Manado, the northernmost city on Sulawesi island, and 12 miles (20 kilometers) beneath the ocean floor.
The Talaud island chain, in waters just south of the Philippines, felt the quake most intensely, said Rustam Pakaya, a government crisis center official, adding that the number of injuries and extent of damage was increasing steadily as rescue workers reached remote areas.
Hardest hit, so far, were the towns of Melonguane and Kabaruan.
Nearly 500 buildings were damaged, including several schools, hospitals and churches, he said. Of the 42 people receiving medical care, 10 suffered serious injuries.
The quake briefly triggered a tsunami warning - delivered over mobile loudspeakers and by radio and television. It was lifted about an hour later, however, after the threat of killer waves had passed.
"We were so afraid," said Damian Geruh, a Melonguane resident who described women screaming as they fled their homes. "We ran to nearby hill. I saw others climbing trees."
Indonesia is prone to seismic upheaval due to its location on the so-called Pacific "Ring of Fire," an arc of volcanos and fault lines encircling the Pacific Basin.
In December 2004, a massive earthquake off the country's western island of Sumatra triggered a tsunami that battered much of the Indian Ocean coastline and killed more than 230,000 people - more than half of them in Indonesia's Aceh province alone. A tsunami off Java island in 2007 killed nearly 5,000.