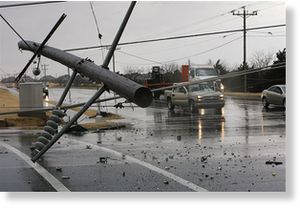 Oklahoma City - A tornado damaged homes and knocked down power lines Tuesday afternoon as severe storms moved through central Oklahoma.
Six homes were damaged or destroyed near Edmond, a suburb north of Oklahoma City.
"We are trying to dodge our storms and keep responders safe, so it is taking some time to get confirmation of damages," city spokeswoman Claudia Deakins said. No casualties were immediately reported.
Schoolchildren were being kept in locked down schools until the storm passed. Structural damage was also reported in northwest Oklahoma City.
Oklahoma Gas and Electric spokesman Brian Alford said about 14,000 customers lost power.
Lara O'Leary, a spokeswoman for Emergency Management Services Authority, said one injury had been reported so far. The person was cut by broken glass from a window.
"We're very hopeful residents were in their safe spots when this moved through," she said.