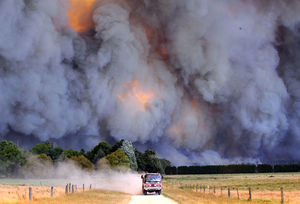 The death toll from the deadliest bushfires in Australia's history could reach into the hundreds
as the devastation is uncovered in the burning and blackened ruins of towns, the authorities warned last night.
Described as "hell on earth", the fires left at least 108 dead, but police in Victoria said the final death toll would be much greater.
"I think it [the body count] will be up into the 100s ... 200," acting Sergeant Scott Melville, who has the job of dragging bodies out of charred vehicles and homes, told the Melbourne Age.
"It's like a friggin' war zone up here, it's like a movie scene."
The army has been called in to help the thousands of exhausted firefighters who, for the third consecutive day, will try to put out 26 fires threatening suburbs near Melbourne.
Fifty fires were also raging across New South Wales, where temperatures reached 46C (115F) yesterday.
An emotional prime minister, Kevin Rudd, announced a A$10million (£4.5m) emergency relief fund and said: "Hell in all its fury has visited the good people of Victoria ... many good people now lie dead."
Shock was turning to anger today as it emerged that some of the fires were deliberately lit. Rudd said those responsible for the fires were "mass murderers".
"This is of a level of horror that few of us anticipated," he said.
Mike Rann, South Australia's premier, described the arsonists as terrorists and "the enemy within".
In New South Wales, a 31-year-old man will appear in court today charged with lighting a fire that destroyed bushland on the state's central coast.
Gordon Brown told Rudd the UK was ready to help, and the Queen offered her condolences to the bereaved families.
Among them were a veteran television newsreader, Brian Naylor, and his wife, as well as a firefighter whose family perished while he was trying to protect residents of another fire-ravaged town.
Mary Avola, from Strathewen, 30 miles north-east of Melbourne, described how she and her husband Peter, 67, tried to flee their endangered home on foot, looking for safety. He told her to go on ahead and she has not seen him since. "He was behind me for a while," she told the Age. "He just told me to go and that's the last time I saw him."
Residents of the worst-hit regions in Victoria told of the extraordinary speed the fire traveled, and how they feared there "was not going to be a tomorrow".
A thick blanket of black ash blotted out the sun, leaving an eerie and "horrible orange glow", said one resident. "It rained fire."
Others described how
flames four storeys high raced across the land like a speeding train, wiping out towns within an hour.
The pretty alpine town of Marysville was flattened, street by street, every public building - the post office, police station, guest houses - no more.
Many tried to escape the acrid smoke in their cars but some did not make it, trees exploding and blocking their exit.
Victoria Harvey said a local businessman watched as a car in which his two children were sheltering went up in flames. "He put his kids in the car, turned around to go grab something from the house, then his car was on fire with his kids in it and they burned," she told the Australian Associated Press.
Marie Jones said a badly burnt man carrying his infant daughter told her his wife and other child had been killed. "He was so badly burnt. He had skin hanging off him everywhere and he said 'Look, I've lost my wife, I've lost my other kid, I just need you to save [my daughter]'," Jones said.
Survivors said the devastated areas looked as though they had been hit by a nuclear bomb, and those who lit the blazes "must pay".
"How can people do this? If the coppers can't get them, and someone else finds them, they'll kill them," Jarrod Champion, who found the body of a friend, told The Herald Sun. Jay Cherie from Kinglake Central told ABC her family had no warning of what was to come. "My little girl was saying to me, 'Mum am I going to see my friends again?', she also said to me, 'Mum am I going to live tomorrow?'."
At least 750 homes have been destroyed and more than 330,000 hectares burnt out, while authorities said some fires could take weeks to contain.
Jim, from Tanjil South, was seeking refuge in his swimming pool with embers dropping in the water around him when he called ABC radio to describe his ordeal. He said it was as dark as midnight, and "we can smell the fire... we're still in the pool here and we can hardly see here, it's so dark".
The authorities, which today will continue the grim task of checking charred houses, vehicles and water tanks for bodies, said the final death toll would not be known for days.
Victoria's premier, John Brumby, broke down, saying: "It is just a day I hope in my life time I never see repeated."
Victoria has roasted in extreme temperatures for a fortnight. The bushfires which worsened last Saturday were driven by hot winds of more than 60mph, and
record temperatures of 46.4C in Melbourne, the highest in 70 years.