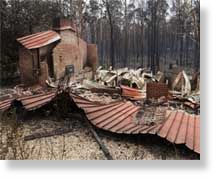 Survivors of Australia's deadly bushfires on Sunday described how a thick blanket of black ash blotted out the sun, leaving only a "horrible orange glow" as flames bore down on their homes.
Residents in the worst-hit areas northwest of Melbourne, where most the reported 93 fatalities occurred, told how they lost loved ones to the flames and desperately tried to help the injured, including children.
Entire townships were razed to the ground, with burnt-out cars strewn across the road outside one of the worst-hit communities, Kinglake, standing in mute testimony to residents who made doomed attempts to escape.
An AFP photographer who reached the town described how the cars had crashed into each other or into trees as towering flames put an end to their flight from the town.
Nearby, the once picturesque hamlet of Marysville was reduced to smoking ruins.
"Marysville, which was one the loveliest townships in Victoria, if not Australia, has just about been wiped out," said pastor Ivor Jones, whose own home in the town was destroyed.
More than 700 homes have been destroyed in total, many around Kinglake, where shops, petrol stations, the local police station and schools were also destroyed.
At least 22 died in the town, with the toll expected to rise as police complete the grisly task of sifting through the ashes for bodies.
Kinglake residents who fled ahead of the fire were kept out by police roadblocks when they tried to return Sunday.
Chris Harvey, who has lived in the town for 22 years and lost his home, believed authorities were trying to shield locals from the horrors awaiting them.
"There's a five-car pile-up on the road into town, all the cars are burnt," Harvey said.
"It's going to look like Hiroshima I tell you, it's going to look like a nuclear bomb. There's animals dead all over the road."
Some residents never even had a chance to flee, with Harvey's daughter Victoria telling of a local businessman who lost two of his children as the family prepared to make a dash for safety.
"He apparently went to put his kids in the car, put them in, turned around to go grab something from the house, then his car was on fire with his kids in it and they burnt," Victoria said.
Witnesses told of trees "exploding" with the intensity of the heat and recounted fire fronts that raced towards them with terrifying speed.
Strathewen resident Mary Avola escaped the flames but her husband of 43 years, Peter, died after they fled their home in separate cars trying to reach a nearby sporting oval.
"He was behind me for a while and we tried to reach the oval but the gates were locked," Avola told Melbourne's Herald Sun website.
"He just told me to go and that's the last time I saw him." Authorities have found his body.
Marie Jones said she was staying at a friend's house in Kinglake when a badly burnt man arrived with his infant daughter, saying his wife and other child had been killed.
"He was so badly burnt," she told the
Melbourne Age's
website.
"He had skin hanging off him everywhere and his little girl was burnt, but not as badly as her dad, and he just came down and he said 'Look, I've lost my wife, I've lost my other kid, I just need you to save (my daughter).'"
Callers to national radio described how they were huddling in swimming pools as flames approached their homes, and of how children were terrified by the powerful winds, furnace-like heat and an eerie orange glow dominating the sky.
"It was so scary, my little girl, she's five years of age and... she's emotionally traumatised by what's happened today -- the horrible orange glow," said a caller who identified himself as Roger from Traralgon South.
Jay Cherie described her family's nightmare drive from Kinglake to safety though a raging inferno.
"When the power went out I madly started to try and pack some things. My husband came running into the house and said, 'grab the kids, grab the cat, we've got to get out'," she said.
In the car "we had fire coming in on the right-hand side of us on a paddock and we had houses to the left of us on fire.
"My little girl was saying to me, 'Mum am I going to see my friends again?', she also said to me, 'Mum am I going to live tomorrow?'"