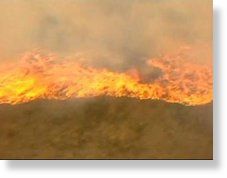 Sydney - Police say the death toll from wildfires that swept southeastern Australia has risen to 25 people.
More than a dozen blazes burned unchecked Saturday in three states, with temperatures soaring and high winds fanning flames.
Victoria Police Deputy Commissioner Kieran Walshe told the Nine television network on Sunday that 25 deaths had been confirmed and that officials believe that number will rise further as police reach further into the fire zone.
Walls of flame roared across southeastern Australia on Saturday, razing scores of homes along with forests and farmland in the sunburned country's worst wildfire disaster in a quarter century. At least 14 people died and the toll could rise to more than 40, police said.
Witnesses described seeing trees exploding and skies raining ash as some of the hottest temperatures on record combined with raging winds to create perfect conditions for uncontrollable blazes.
More than 30,000 firefighters were struggling Saturday night to make headway against the largest of about a dozen fires in Victoria state that earlier in the day ripped unchecked across at least 115 square miles (30,000 hectares) of forests, farmland and towns.
"The whole township is pretty much on fire," Peter Mitchell, a resident of Kinglake, where six of the 14 confirmed deaths occurred, told Australian Broadcasting Corp. radio during the inferno. "There was no time to do anything ... it came through in minutes."
Victorian Premier John Brumby, whose parents' house was among those saved by firefighters Saturday, said the death toll was expected to rise "considerably."
"It's been, I think, the worst day in our history," he said.
Temperatures that reached a state record of around 117 degrees Fahrenheit (47 Celsius) plummeted late Saturday as a cool front moved through the hard-hit Gippsland region, but along with it came wind changes that pushed the fires in new and unpredictable directions.
Forecasters said hot and uncertain weather conditions would continue Sunday, and scores of fires burning in three states suffering through the heat wave could easily flare again.
Television pictures showed skies clogged with steel-gray smoke, flames roaring to two-story heights, homes and businesses afire. At least one fire truck was roasted, though the crew escaped injury and went on to rejoin the fight, officials said.
In the Gippsland town of Taralgon, resident Lindy McPhee watched in fear as a fire front edged closer to the town until rain began falling late Saturday.
"It's raining black soot," McPhee told Sky News television. "We'd been watching the glow for hours."
In Wittlesea, another Gippsland town, organizer Sally Tregae said she canceled performances at the town's annual country music festival and sent thousands of visitors out of town to safety.
"I saw trees explode in front of me," she said. "It's a horrible thing, and a horrible thing to see. I have friends who have lost houses."
Victoria's Country Fire Authority deputy chief Greg Esnouf said the conditions on Saturday were "off the scale" in terms of danger.
"We've still got a massive amount of work to do to get these fires under control," Esnouf told Sky. "It's going to take days and days to get them under control."
Victoria deputy police commissioner Kieran Walshe said 14 people were confirmed dead at four sites, all connected to the same fire in Gippsland, a large farming region dotted by small towns and national parks of old-growth eucalyptus trees. Of those killed, six died in the same vehicle at Kinglake.
"This has been an absolute tragedy for this state," Walshe told a news conference. "We believe this figure may only get worse, we are concerned that this figure could even reach up into the 40s."
More details would be known Sunday after investigators returned to the fire zone.
Police said they believed some of the fires were deliberately lit. In New South Wales state, police detained and questioned a man in connection with a blaze but released him without charge.
Earlier Saturday, Sydney, the capital of New South Wales, was shrouded in a pall of smoke from three fires burning north of the city. Crews battled into Saturday night to keep several uncontrolled fires away from homes.
In South Australia, the third state in the heat wave's grip, a large fire was close to being contained after hundreds of crews battled it most of Saturday.
Wildfires are common during the Australian summer, as rising temperatures bake forest land tinder dry and blustering winds fan embers. Fire conditions have been made worse by a long-running drought in southern Australia - the worst in a century - leaving forests extra dry.
Some 60,000 fires occur each year, and about half are deliberately lit or suspicious, government research says. Lightning strikes and human activity such as use of machinery near dry brush cause the others.
Australia's deadliest fires were in 1983, when blazes killed 75 people and razed more than 3,000 homes in Victoria and South Australia. In 2003, hundreds of houses were destroyed and four people died when a huge blaze tore into the national capital, Canberra. In 2006, nine people died in fires on South Australia's Eyre Peninsula.
Video Link