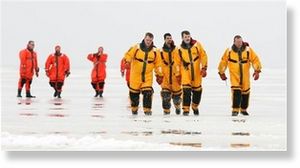 Columbus - More than 100 people were rescued Saturday from a miles-wide slab of ice that floated away from the Ohio shoreline of Lake Erie, authorities said.
One person died, said Ottawa County Sheriff Bob Bratton. He said 100 to 125 others were rescued by late afternoon.
Several ships and helicopters from Toledo and Marblehead, and from Detroit, were sent to rescue the people from the ice floe.
Authorities said fishermen apparently used wooden pallets to create a bridge over a crack in the ice so they could go farther out on the lake. But the planks fell into the water when the ice shifted, stranding the fishermen about 1,000 yards off shore.
Ice on western sections of Lake Erie is up to 2 feet thick, National Weather Service meteorologist Bill Randel said. He said it started to crack as temperatures rose above freezing this weekend and wind gusting to 35 mph pushed on the ice.
Ice fisherman who regularly visit the lake have said this winter's thick ice has lured more people to the lake this year.
"There was a heck of a city out there for the last week and a half, two weeks," said 71-year-old Oak Harbor resident Peter Harrison, who has lived on the shore for 40 years.
Ohio Division of Wildlife spokeswoman Jamey Graham said the state annually warns fishermen that there's no such thing as "safe ice."
Even in very cold weather, the ice on western Lake Erie is often unsafe because currents can easily cause the ice to shift. Firefighters in communities along the lake are trained for rescues from the ice and are often on guard when temperatures rise.