Blizzards, ice and flooding have ravaged Western Europe over the past few days. At least 25 people were injured by a tornado in Malaga, Spain, while heavy snowfall has left thousands stranded in airports and traffic jams across much of the continent.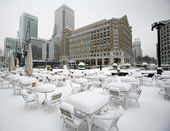 Dramatic winter weather hit Spain, England, Belgium, France and Italy over the weekend leaving many commuters stranded due to the ensuing traffic chaos.
In southern Spain, a tornado with wind speeds of up to 180 kilometers (112 miles) per hour left at least 25 people injured in the coastal city of Malaga. The roofs of a bus station and parking garage in the city were blown off, billboards torn to the ground and windowpanes shattered. Two highways near Madrid had to be temporarily closed and the train between Malaga and Madrid was shut down due to rail damage from a fallen wall.
Meanwhile, parts of England vanished under a thick white blanket after the heaviest snowfall in 18 years. As a result, London traffic descended into chaos on Monday, with buses and some train traffic cancelled. Heathrow Airport cancelled hundreds of flights and the smaller London City Airport closed completely. London's Mayor Boris Johnson said that the city was facing some of the most challenging weather conditions of recent times.
Belgium, which also saw record snowfall, suffered a total of 408 (254 miles) kilometers of backed-up traffic due to slippery highways, while many Parisians were trapped in their cars for up to three hours. Additionally, several flights were canceled.
Rain and snow also reached Italy, putting many regions at risk of flooding and forcing a major port to close. On Sunday, three people died in southern Italy and 500 had to be evacuated from their homes due to dangerous weather conditions.