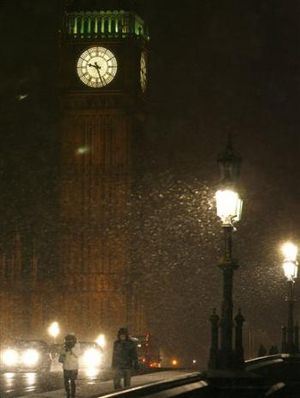 London - The British capital ground to a halt on Monday after
the worst snowstorm in 18 years
caused hundreds of flight cancellations and virtually halted public transportation.
Shops, schools and courts shut down and long trails of commuters trudged through the streets looking for scarce taxis or ways to work after more than four inches (10 centimeters) of snow fell overnight.
"We're not in Russia here," said Guy Pitt, a Transport for London spokesman. "
We don't have an infrastructure built for constant snow
."
Heavy snow continued Monday afternoon, with more forecast for the evening along with rain and sleet overnight, which could lead to hazardous icy conditions Tuesday morning.
London's airports were open Monday afternoon but with drastically reduced schedules, and rail and road connections to airports were hazardous and unreliable.
Heathrow closed one of its two runways and reported more than 650 cancellations. Major delays and cancellations were also reported at London airports Gatwick, Luton and Stansted, while London's City Airport was closed.
An Airbus 330 coming from Cyprus slid off the taxiway at Heathrow with 104 passengers on board. Cyprus Airways spokesman Kyriakos Kyriakou said there were no injuries or damage. No other incidents were reported.
There were massive traffic jams on many highways near London. Multi-car pile ups temporarily closed highways in parts of England, with no serious injuries reported during the day.
Southeast England was hardest hit, with up to 10 inches (25 centimeters) of snow reported in some areas.
The Met Office, the country's national weather service, said it expected another four inches (10 centimeters) Monday afternoon.
"We are doing everything in our power to ensure that the services - road, rail and airports - are open as quickly as possible," Prime Minister Gordon Brown said.
London Mayor Boris Johnson conceded the city lacked sufficient snowplows to deal with the "huge volume" of snow.
"You can grit and you can salt it, but the snow comes down again," he said. "You can make an investment ... in snowplows for London and then not use them for a couple of decades."
Johnson said many buses couldn't be sent out because "if they skid they become a lethal weapon."
Former mayor Ken Livingstone said Johnson had plenty of time to prepare for the storm, which had been predicted late last week.
"
There has never been a day where the bus service has been canceled for bad weather. Not in 100 years
," he told the BBC.
London's subway network was hit hard because much of the system is above ground. Of some 12 lines, only the Victoria Line was unaffected.
After waiting in vain for an Underground train to arrive, office worker Caroline Samuel, 36, decided to retreat.
"There's no point in going to work today," she said. "I'm going home."
Many of the tracks were covered in snow or ice, and some transport workers themselves struggled to get in to work.
There were reports of some storm-related injuries. A 17-year-old pedestrian was struck by a car in East Sussex, and three teenagers were hospitalized Sunday night after their car collided with another vehicle after hitting a patch of ice.
In Scotland, two members of an ambulance crew responding to an emergency call suffered minor injuries after their vehicle overturned in snowy conditions.
Heavy snowfall in France also disrupted traffic and caused delays at Paris' Charles de Gaulle airport.
Flights to and from Ireland were also affected.