The heaviest snowfall in 20 years has closed thousands of schools and caused transport chaos up the eastern side of Britain, with London and the surrounding areas the hardest hit.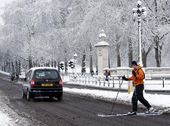 Six million bus passengers were left in the lurch as all London's bus services were halted because of dangerous driving conditions, and every Tube line except the Victoria line was at least partially suspended.
Many mainline commuter rail services were also cancelled or seriously delayed, and flights at London's airports were decimated, with both of Heathrow's runways shut, Luton and London City closed, and Gatwick and Stansted flights subject to delays and short-notice cancellations.
Millions of commuters stayed at home rather than brave the conditions, as an estimated one in five people either worked from home or took the day off, costing industry hundreds of millions of pounds.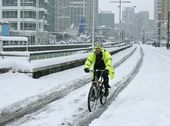 Meanwhile Westminster council in central London issued a statement that many of its schools would remain closed because too many teachers could not get to work, a message echoed by schools in Kent, East and West Sussex, Hampshire, Essex, Cambridgeshire, Birmingham, and West and North Yorkshire. In Surrey, every school was shut.
Many courts were closed as lawyers, witnesses and jurors were unable to turn up, and London Ambulance Service said it would only respond to "life-threatening calls" as the heavy snow and wintry weather meant it was under "severe pressure" and had received more than 650 calls between midnight and 7am today.
The South East of England and the Pennines bore the brunt of the snowfall which began yesterday afternoon, with some of the hardest-hit areas reporting up to 1ft of snow. By the morning the heavy showers had extended as far north as southern Scotland.
Forecasters are predicting that during the rest of the day and tomorrow the snow will continue to extend northwards and westwards across the UK,
with a wave of even heavier falls due to reach Britain on easterly winds this afternoon
.
"The South West has escaped the worst of the snow, but we could see another 10cm in Greater London over the next 24 hours, and even more than that in Yorkshire and the Pennines," said a spokeswoman for the Meteo forecasting group.
A spokesman for Transport for London said: "Heavy snowfall across the London area last night has severely disrupted transport services and further snow is forecast throughout Monday. The advice is to check before you travel, expect disruption and if your journey is necessary then allow more time for your journey.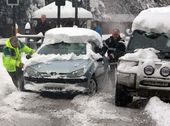 "The biggest difficulty today is the road conditions which are extremely dangerous and drivers should take extreme care."
He added that bus services had been suspended because of fears for passenger safety.
A number of train services linking London and the south coast were also delayed or canceled as snow drifted on to the tracks. Southern, which operates rail commuter routes from the south coast, including the Brighton line, into Victoria was forced to reduce its service on all routes to just one or two trains an hour.
Southeastern, the UK's busiest commuter operator, was forced to cancel all services into London with no trains running into Cannon Street, Charing Cross and parts of London Bridge and Victoria stations.
South West Trains, which operates local and long distance routes into London Waterloo, suffered a much reduced service. A spokeswoman said: "We advise passengers not to travel unless their journey is absolutely necessary."
Firms in London started contacting staff this morning telling them not to even attempt to travel into the capital.
In central London cars crawled along the icy streets to avoid accidents, and in areas outside the centre there was an eerie quiet as many drivers avoided the dangerous conditions altogether, warned by roads agencies to cancel all but essential journeys.
The Highways Agency said around 500 gritters had worked through the night to clear major roads in time for the morning rush hour, but even so
there had been too many minor accidents on the roads to put a number on
.
"We have 600 patrols out on the motorways to help drivers caught in the snow, plus another 500 gritters working through the night. It's certainly been a busy night," said the spokesman.
Some lanes on the M25 around London were blocked by snow and a section of the southbound A1M near Stevenage, Hertfordshire was closed between junctions 7 and 6 due to a jack-knifed truck. A junction of the London-bound M20 in Kent that was temporarily shut due to the treacherous conditions has now reopened. The London-bound M3 in Hampshire was down to one lane this morning.
Part of the M5 northbound near Tewkesbury was briefly closed after a car went into a spin and crashed into the central reservation, causing a multi-vehicle pile up.
A spokeswoman for navigation firm TomTom said that a total of 1,086 miles of traffic jams had formed around the country.
The longest queue was 32 miles on the M25
, between junction 19 at Watford and junction 8 at Reigate, at 7.30am, she said.
By 8am there were delays of one hour and 27 minutes between junction 11 on the M27 at Fareham, Hampshire, and the M3 interchange.
Brighton and Hove Bus Company said the heavy snow meant it was unable to operate any bus route in East Sussex, explaining: "We are doing all we can to commence services, but at present the roads are still too treacherous."
Police requested the closure of the A66 between Brough and Stainmore Summit on the Cumbria/Durham border from 1.35am today because of the weather conditions. A Highways Agency spokesperson said it was likely to remain closed throughout the day.
Slow traffic was reported on the M6 around and north of Carlisle. In Greater Manchester, two lanes of the M62 westbound between junctions 22 and 21 at Milnrow were shut overnight but reopened in time for the rush hour.
The AA have warned motorists to ensure they keep warm clothes in the car. Andy Taylor, AA Patrol of the Year, said: "If you break down on a motorway, the safety advice is to get out of the car and wait behind the barrier. Unless you have extra clothes you really are flirting with hypothermia."
Flight passengers were advised to check with their airline before leaving for the airport, after BAA reported that both Heathrow's runways were a shut, causing more than 250 flight cancellations.
A spokesman added that while Gatwick Airport had reopened, there were significant delays and cancellations. Ryanair was handing out leaflets at Stansted warning that more than 70 flights had been cancelled. Southampton airport was shut this morning, but BAA said it hoped to reopen it later.
Gatwick Airport and London City Airport were both temporarily shut last night as their runways were de-iced. BAA said the runway at Gatwick Airport reopened after several hours, while it was cleared in time for the first departures of the day.