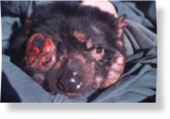 Efforts to save the endangered Tasmanian Devil have been boosted by the raising of $13,200 at a charity dinner in New York last week. The money was raised as part of Tourism Tasmania's G'DAY USA 2009 Activities in the United States according to a Tasmanian Government press release.
Speaking from New York, Tasmanian tourism minister Michelle O'Byrne told reporters the money was raised from gifts and the holding of a silent auction. She added the cause for the devils was supported by messages from over 300 high-profile wildlife lovers who attended the event.
"In addition to the silent auction and messages in the event program, American wildlife guru Jack Hanna - who filmed episodes of his hit television show
Into the Wild in Tasmania
earlier this year - urged the audience to support the Tasmanian devil cause via a pre-recorded message," said O'Bryne.
"And Professor Tim Flannery, Director of the Australian Wildlife Conservancy and 2007 Australian of the Year, also delivered a speech that highlighted the Tasmanian devil's endangered species listing," she added.
The Tasmanian Devil has been struck by a mysterious contagious cancer that has spread throughout a large portion of the population in their home on the island state of Tasmania, off the southern coast of mainland Australia.
An estimated 60 percent of wild devils have been killed by the tumours over the past decade, prompting a number of breeding programs to attempt to stabilise their numbers in the wild.
Zoos, such as Sydney's Taronga Zoo, have begun breeding programs to keep the devil population from total extinction.
"There's a realistic possibility that the devil could go extinct in the wild in 30, 35 years so our programme has to address that time frame," said Taronga curator Paul Andrew to AFP.
Other attempts to avert their extinction include the proposal of a fenced-off region free of the contagious disease, with the idea that off-shore islands can be used as sanctuaries.