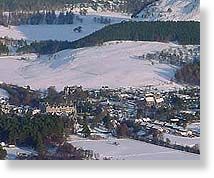 Three climbers were killed by an avalanche on a mountain near the town of Glencoe in the Scottish Highlands, local police said on Saturday.
Authorities had launched a major rescue operation following the avalanche on Buchaille Etive Mhor, with rescue dogs and helicopters deployed, after a climber alerted them to it at around noon (1200 GMT).
Initially two people were airlifted to a nearby hospital, but one was pronounced dead on arrival, and the other died shortly thereafter. Rescuers found a third dead body buried in the snow later.
"The rescue and emergency services clearly did everything they possibly could, and I pay tribute to the brave efforts of all those involved, including Northern Constabulary, the RAF (Royal Air Force), and mountain rescue team members," said Scottish community safety minister Fergus Ewing.
"It is deeply sad that it was not enough to save the three climbers whose lives were lost, and I express my condolences to their loved ones."
Northern Constabulary police said that in addition to the three climbers who died, one other suffered a shoulder injury and had been taken to a hospital, while a further five people on the mountain were uninjured.
The mountain, known for its distinctive pyramid-like shape, is not normally used by skiers but is popular with climbers. Its highest point measures 3,352 feet (1,020 metres).
Sport Scotland's website rated the risk of avalanches in the area as "considerable", issuing a category three avalanche risk, on a scale of one to five.