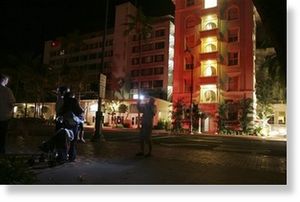 HONOLULU - Crews gradually restored electrical service across parts of Oahu on Saturday after a power failure blacked out the island's population of about 900,000 people and thousands of tourists including vacationing President-elect Barack Obama.
Residents were urged to stay home after the lights went out during a thunderstorm Friday evening and to conserve water.
Hawaiian Electric Co. spokeswoman Jan Loose said power had been restored to about 113,000 customers as 6 a.m., mostly on the west side of the island. The utility serves a total of 295,000 homes and businesses.
She said power to neighborhoods on the eastern shore, where Obama was staying with his family, would likely not be restored until later Saturday.
"Keep your fingers crossed. We should have everybody restored. But folks on the east side will be out most of the morning," Loose said in radio interviews.
Gov. Linda Lingle had said late Friday that the utility was taking an emergency generator to Obama's rented beachfront home.
But Bill Brennan, a spokesman for Honolulu Mayor Mufi Hannemann, said in an e-mail to The Associated Press early Saturday that there were already three generators at Obama's house and that the one sent by the Republican governor was turned away when power company employees tried to deliver it.
Brennan said Hannemann also offered assistance through Honolulu police helping with Obama's protection and was told he didn't need anything more.
"Mr. Obama said thank you, but no, he and his family were just fine ... and we're going to bed," Brennan said.
The
Honolulu Advertiser
reported the island-wide blackout prevented printing and delivery of the paper Saturday, but it provided an electronic edition on its Web site headlined "POWERLESS."
The cause of the outage was still being investigated.
Honolulu International Airport operated on emergency generators, with fights delayed up to several hours. Some incoming passengers were kept on planes for extended periods.
Hawaiian Electric spokesman Peter Rosegg said the initial power outage hit at 6:45 p.m., affecting most of the island. The rest of Oahu lost power two hours later when the last generator failed.
Lingle said the utility asked the state to provide a helicopter at daylight so it could inspect power lines on a mountain ridge that it suspects were damaged.
The telephone provider Hawaiian Telcom had most of its system still in service on generator and battery backup, spokeswoman Ann Nishida told the
Advertiser
.
Although the outage occurred during a thunderstorm, the weather cleared up quickly over most of the island.
The outage closed stores at major retail outlets just after sunset, halting post-Christmas shopping a couple of hours early.
Highways were clogged as everyone tried to get home at once without stoplights to control traffic.
"I would advise ... everyone to just go to sleep," Lingle said in a radio interview late Friday.
Several Christmas weekend events were scuttled by the blackout, including a show by comedian Howie Mandel.