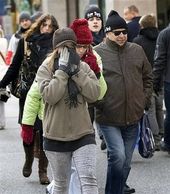 Reno, Nevada - While much of the nation got a reprieve from heavy snow and ice, another winter storm blanketed parts of the West, snarling holiday traffic and briefly darkening lights on Christmas trees before barreling eastward.
Winter storm warnings were issued Friday for Utah, Arizona, New Mexico, Colorado, Wyoming, Montana and the Dakotas, while a blizzard warning was in effect for southwestern Colorado.
"
It's going to be a heck of a storm
," said Chris Cuoco, senior forecaster for the National Weather Service's Grand Junction office. "We're expecting significant snowfall in all the mountains of Colorado. Even the valleys are going to see 4-plus inches of snow."
Up to 20 inches of snow was forecast in parts of the Rockies, along with wind gusts of up to 80 mph.
Heavy snow and whiteout conditions in the Sierra Nevada on Thursday led authorities to intermittently shut down Interstate 80, the main link between northern Nevada and Northern California.
The mountains around Lake Tahoe received about 2 feet of snow, bringing totals at some resorts in the past two weeks to 10 feet.
"
This is one of the snowiest Christmas holiday periods I can remember
," said Kent Hoopingarner, general manager at Homewood Mountain Resort.
That snow proved deadly for at least one skier Thursday, as an avalanche killed a 21-year-old man at the Squaw Valley USA ski resort in California.
Two skiers at the Mount Rose ski resort south of Reno, Nev., went missing Thursday afternoon. The Washoe County sheriff's office said it had been in contact with the duo by cell phone, but concerns grew as temperatures plummeted to single digits and winds increased by nightfall.
In Utah, about 10,000 Salt Lake City-area residents lost electricity for about an hour Thursday morning after nearly a foot of snow fell. Authorities closed Interstate 84 near the Idaho state line.
Power was also knocked out in parts of Oregon on Thursday. Most of Portland General Electric's 19,000 outages were reported in Salem, Silverton and Sheridan, PGE spokesman Steve Corson.
Farther north, the weight of snow, ice and water from storms that hammered the Northwest over the past week collapsed the roof of a high school in Olympia, Wash. There was severe water damage but no injuries, fire Lt. Ralph Dunbar said.
Spokane broke a record Thursday for most snowfall in the month of December.
As of 4 p.m., Spokane had received 46.2 inches of snow, smashing the previous record of 42.7 inches set in 1996, said Laurie Nisbet of the National Weather Service.
In New Mexico,
San Juan County saw its first white Christmas in 11 years.
Accumulation ranged between 2 and 5 inches.
Raymond Jojola, a spokesman for the National Weather Service in Albuquerque, said snow last covered the ground in the county on Christmas 1997.
"We were eating breakfast this morning and it was snowing. It was very Christmasy," said Farmington resident Kim Hamer, who went sledding with her husband and two sons.
Elsewhere, air traffic got back to normal Thursday after several days of flight delays and cancellations caused by nasty weather.
A dozen flights were canceled Thursday at Chicago's O'Hare International Airport, down from 100 the day before, but no delays were reported, the city's aviation department said.
In Michigan, slick roads were blamed for a head-on crash that killed two women and critically injured a man Thursday near Farwell.
In New Jersey, a 40-foot tree fell on the car of a Massachusetts family headed to a Christmas celebration early Thursday, killing a grandmother and her son and injuring the man's two young daughters. Authorities were still trying to determine what caused the tree to fall but said winds in the area were blowing about 40 mph at the time of the accident.