Dec. 21st is the northern winter solstice. In just a few hours you can watch a live webcast of the solstice sunrise from the great tomb of Newgrange, in County Meath, Ireland. A beam of sunlight will travel down an 18 meter tunnel to illuminate the tomb's inner chamber as shown in this photo.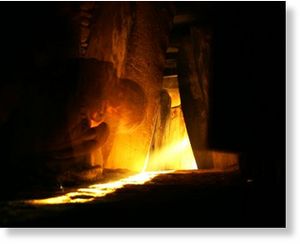 Newgrange is 5000 years old, predating the better-known Stonehenge in the neighbouring island of Great Britain by more than a thousand years. This makes it the oldest megalithic monument in the world with a known astronomical function.
The
webcast
begins at 8:30 am GMT.