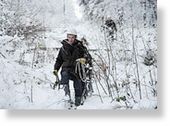 Lyon - Heavy snow and rain storms across southern France killed three people, cut power lines and trapped hundreds in cars and trains and ski lifts on Sunday.
About 100,000 households were without electricity, local authorities and the French power company said. Two thousand people were stuck for several hours on trains running along the Mediterranean coast that were halted when torrential rain brought down power lines.
Up to 60 centimetres (24 inches) of snow fell in hilly regions over 24 hours and the French weather service issued avalanche alerts for 12 departments.
A Swiss cross-country walker was killed and her husband seriously injured in one avalanche on the Col de la Faucille mountain in the Jura region of eastern France. Another woman was killed after being hit by a train as she walked on a snow covered embankment in the Savoie region.
A 50-year-old motorist was killed after losing control of his car on a snow covered road and falling into the Loire river in central France.
Several main highways were closed because of snow or water. The fire brigade rescued about 50 people stuck in cars on a snowbound main road near St Julien-Chapteuil in Haute Loire.
Heavy winds brought a ski lift at Sept Laux in the Isere region to a standstill and emergency services rescued 50 skiers stuck on it. A men's World Cup slalom competition at Val d'Isere was called off because the snow storms were so intense.
The ERDF power distribution company said the Lozere and Aveyron regions had been worst hit by power cuts, with 26,500 and 6,000 homes without electricity respectively, and that bad weather had hampered efforts to restore service.
Local authorities in many districts have told people to avoid driving and stay at home on Monday.