Tens of thousands of people have been left without power or transport by freak snowstorms in south-central France.
Up to 100,000 were left without electricity in the largely hilly region, with some losing their phone lines, according to regional power company ERDF.
Traffic has been blocked on several highways, while heavy snow in the elevated Massif Central region near the Alps cut train lines between Béziers and Clermont-Ferrand.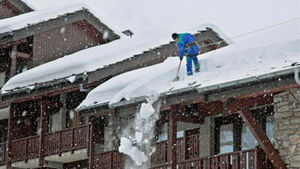 The snow is expected to settle in drifts ranging anywhere between six inches to two feet.
More than a quarter of the 74,000 inhabitants of the Lozère region are still without power, with efforts to restore power hampered by the incessant snow.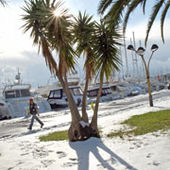 Meanwhile, heavy winds and snow postponed the men's World Cup slalom at Val d'Isère, with rescue workers evacuating some of the skiers in the region.
A total of nine of the 100 French départements are now on weather alert.
Spain is also suffering from unusual weather after a weekend of snow, rain and plummeting temperatures.
Last night, more than 3,000 cars were trapped on mountain roads near Madrid.