Pilot whales that survived a mass stranding in Tasmania are yielding fresh insights into the mammals' little-known deep-sea lives.
Satellite tags attached to five of the surviving whales on Sunday have let scientists track the specie's movements for the first time in Australian waters.
They also worked as beacons, allowing airborne wildlife officers to find and photograph all 11 survivors swimming together.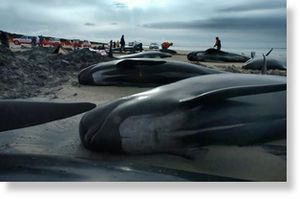 A Tasmanian Government zoologist, Rosemary Gales, said yesterday the findings confirmed for the first time the success of a pilot whale rescue in the state, which is a hot spot for beachings.
"Everybody asks, 'How do you know whether the whales you rescue survive?' " Dr Gales said. "Well these ones have."
The small, dark-skinned pilot whales normally live in open oceans, where they dive up to 1000 metres in search of prey.
They were dubbed "cheetahs of the sea" this year by a Spanish scientist, Natacha Aguilar de Soto, whose data tags on Canary Islands pilots found that despite the depth of their dives, they could hit bursts of nine metres a second while chasing squid.
A herd of 65 came ashore last Saturday at Anthonys Beach, near Stanley, in north-western Tasmania. The 11 survivors were transported to another beach 17 kilometres away and released separately over several hours on Sunday.
Dr Gales said the first valuable data came through the French Argos satellite system when the five tagged whales clustered together, confirming they had re-grouped after their 24-hour ordeal onshore.
The tagged whales all headed east across Bass Strait. The tracks across the strait showed intriguing loops and dog-legs as the whales swam about 30 kilometres offshore from Tasmania.
But it was not until the wildlife officers were able to home in on their location using a light aircraft on Tuesday that they were able to see all 11 together.
At one point the whales, which have sensitive natural sonar, appeared to swim north and south beside the seafloor Basslink electricity cable between Victoria and Tasmania, before crossing over it.
Dr Gales said the whales had travelled about 160 kilometres since their release and appeared to be headed for the Tasman Sea.