Large parts of the UK were waking up to a blanket of snow as an Arctic front swept across the country in the first prolonged cold snap of the winter.
Motorists were warned to be prepared for hazardous driving conditions with up to 10 centimetres (4in) of snow predicted to fall in eastern England.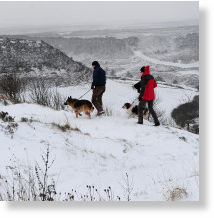 But MeteoGroup UK, the weather division of the Press Association, said much of the snow would be washed away by rain as the day progresses, with milder air coming from the south west.
Rachel Vince, a forecaster for MeteoGroup UK, said temperatures dropped below freezing in many places on Saturday night, with a low of -4c recorded in Surrey, Suffolk and Oxfordshire.
She said Wales, the south west and Northern Ireland will probably escape the snowfall, but there could be a couple of centimetres in London.
"The snow band is moving eastwards and will have cleared by the end of the morning. It will be a showery day in the West and a largely fine afternoon in most eastern parts of the UK."
The Met Office issued severe weather warnings stretching from northern Scotland to south-east England and advised people to be prepared for heavy snow and icy roads.
The AA advised motorists to limit their speed to the conditions and to be aware of the greater stopping distances required in ice and snow.
It said it was deploying snow-busting patrol vehicles to help rescue drivers stranded in ice and snow.
Meanwhile, councils across the country said they had gritters at the ready to clear roads of any snow and ice and the charity Age Concern has warned older people to take extra care to stay warm in the freezing weather.