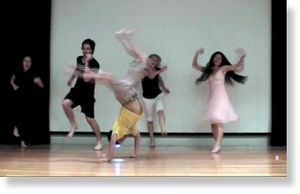 Six weeks ago, the Gonzo Scientist challenged researchers around the world to interpret their Ph.D. research in dance form, film the dance, and share it with the world on YouTube (
Science
, 10 October, p. 186). By the 11 p.m. deadline this past Sunday, 36 dances--including solo ballet and circus spectacle--had been submitted online. A panel of nine judges--the three winners of the first "Dance Your Ph.D." contest, three scientists from Harvard University, and three artistic directors of the dance company Pilobolus--scored the dances on their ability to bridge the art and science worlds. Today, Science announces the winners of the 2009 AAAS Science Dance Contest in four categories: Graduate Students, Postdocs, Professors, and Popular Choice:
Graduate Students
Sue Lynn Lau chose classical ballet and highly kinetic party dancing as the way to interpret her Ph.D. thesis, "The role of vitamin D in beta-cell function." As The Nutcracker Suite lilts in the background, Lau, a graduate student from the Garvan Institute of Medical Research in Sydney, Australia, appears as the Sugarplum Fairy, delivering marshmallow glucose to four beta cell dancers. Meanwhile, a fifth dancer flings and twirls around the stage--representing the sunlight required for vitamin D biosynthesis.
Postdocs
The raw material for Miriam Sach's solo contemporary dance was her 2004 Ph.D. thesis at the University of Düsseldorf, Germany, titled "Cerebral activation patterns induced by inflection of regular and irregular verbs with positron emission tomography: A comparison between single subject and group analysis." The question behind her research was whether different types of verbs are processed by different regions of the brain. Sach, now a neuroscientist at the University of California, Davis, embodied this difference by dancing in the various styles of processing: awkward and hunched for the irregular verbs and graceful and limber for the regular verbs.
Professors
Vince LiCata, a biochemist at Louisiana State University, Baton Rouge, won this category with the help of his graduate students. The foursome danced a slow and graceful double pas de deux, representing the interaction of pairs of hemoglobin molecules from his 1990 Johns Hopkins University Ph.D. thesis, "Resolving Pathways of Functional Coupling in Human Hemoglobin Using Quantitative Low Temperature Isoelectric Focusing of Asymmetric Mutant Hybrids." To study these molecules, LiCata had to cool them down and take pictures of them, a technique that was mirrored onstage by a long-bearded Old Man Winter periodically running by and pouring Styrofoam frost as another dancer ran by and snapped a shot of the proceedings.
Popular Choice
The winner of the Popular Choice category was determined by the number of views accumulated by each YouTube video between the time it went online and the contest deadline. Markita Landry, a half-Bolivian, half-French Canadian physics Ph.D. student at the University of Illinois, Urbana-Champaign, was the clear winner with 14,138 views; views for the rest ranged from 10,000 to fewer than 100 for the last-minute entries. (It didn't hurt that Landry was the first to enter the contest.) Landry used a tango to convey her thesis, "Single Molecule Measurements of Protelomerase TelK-DNA Complexes." She is trying to understand how a protein called TelK bends DNA into hairpin loops. The mechanism makes for beautiful dance, with Landry bending like pliable DNA in her partner's arms.
So what does everyone win? Each will be paired with a professional choreographer this week, and together they will attempt to translate a scientific paper the researcher has authored into a dance. Then the four choreographers--all of whom are based in Chicago--will create a single four-part performance based on the papers. In February 2009, the winning scientists will be guests of honor at the AAAS Annual Meeting in Chicago, where, on 13 February, they will have front-row seats to the world debut of THIS IS SCIENCE, a professional dance interpretation of their published research.