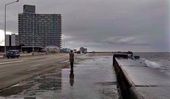 Camaguey, Cuba - Hurricane Paloma weakened as it passed over southeastern Cuba early Sunday, lashing the island with rain, gale-force winds and massive sea waves -- and forcing more than half a million people to leave their homes.
After making landfall on Cuba's southeast coast earlier in the day as a powerful Category Three storm, Paloma weakened to Category Two, displaying winds of 175 kilometers (108 miles) an hour, the national Institute of Meteorology said.
"It is now a Category Two storm," Jose Rubiera, the institute's director, said in a statement.
The US National Hurricane Center said Paloma packed winds measuring 155 kilometers (100 miles) an hour.
At 0600 GMT, the center of Paloma was about 45 kilometers (25 miles) southeast of Camaguey, the Miami-based center said.
Faced with a devastating storm, more than 500,000 Cubans were evacuated to central provinces and some 3,000 foreign tourists were being sheltered on northern holiday islands in the central region of Ciego de Avila, the Civil Defense said.
The hardscrabble town of Santa Cruz found itself in Paloma's crosshairs 76 years after another major hurricane devastated the area, leaving more than 3,000 people dead in the largest natural disaster in modern Cuban history.
Cuba's Civil Defense had issued hurricane warnings for the central and eastern provinces of Camaguey, Las Tunas, Holguin, Granma, Santiago de Cuba and Guantanamo.
The hurricane was expected to wreak havoc on the cash-strapped communist-ruled island of more than 11 million people already devastated this season by two other monster storms.
Paloma lost some steam as it approached the Cuban mainland dropping from Category Four to Three, in the Saffir-Simpson Scale of five.
"Continued weakening is expected over the next day or two ... even after Paloma moves off the coast of Cuba," the NHC said.
Moving northeast at seven kilometers (five miles) an hour, Paloma was also forecast to decrease in forward speed as it makes its way across Cuba.
Paloma had intensified to a Category 4 storm with winds up to 215 kilometers (135 miles) per hour as it crossed the Caribbean, leaving devastation in its wake on the Cayman Islands, a British territory with tourism and banking interests, south of Cuba's southern coast.
Residents of Grand Cayman emerged from shelters Saturday morning to piles of debris, flattened trees, and localized flooding. Power to most of the island had been restored by midday, and Grand Cayman's governor Stuart Jack reported no casualties.
But the smaller islands of Cayman Brac and Little Cayman were devastated by the strongest storm to hit the islands since 2004's Hurricane Ivan.
"Probably 90 to 95 percent of homes and buildings have been damaged" on Cayman Brac, local commissioner Ernie Scott told
AFP
by telephone. "Some have been totally devastated."
There were no early reports of casualties, as all tourists were evacuated and most residents were moved to shelters, Scott said.
In Cuba, potentially catastrophic storm surge flooding of 15 to 20 feet (4.5 to 6.0 meters) accompanied by large and dangerous battering waves is expected near and to the east of Santa Cruz del Sur along the south coast of Cuba, US forecasters said.
Most residents had evacuated Santa Cruz by midday Saturday to avoid a potential repeat of the November 9, 1932 storm that hit near Santa Cruz with winds topping 250 kilometers (155 miles) per hour, inundating the area with nine-meter (30-foot) waves and killing 70 percent of the population.
Cuba is reeling from a devastating storm season and Paloma is the third hurricane to crash into the island in 60 days.
The season's storms, including Hurricanes Gustav and Ike, have left hundreds dead across the Caribbean and Central America and wrought billions of dollars in damage.
Gustav and Ike, which struck Cuba on August 30 and September 9, caused an estimated 9.3 billion dollars in damage, according to official reports. The storms damaged tourism infrastructure and destroyed about 80 percent of crops.
Gladys Sanchez, a resident of Minas, north of Camaguey city, told
AFP
by telephone that "no one had expected another hurricane."
"There are people here who are still homeless," she said, adding that local residents had just begun to recover from the previous storms.
"It has been raining here since morning -- everything is dark," she said.
Paloma was forecast to power across Cuba and into the Atlantic Ocean by Sunday morning.
It is expected to reach the central Bahamas late Sunday or Monday, the NHC said.