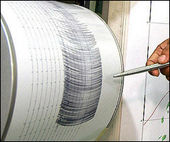 Sydney - A 6.3-magnitude earthquake struck off the south Pacific island of Vanuatu on Wednesday, seismologists said, but there were no immediate reports of casualties or damage.
No tsunami warning was issued after the undersea temblor that the US Geological Survey said struck at 5:35 am (1825 GMT) 75 kilometres (47 miles) north of the capital city of Port Vila.
The USGS initially reported the magnitude of the quake at 5.9, but later upgraded the reading.
Police in Port Vila said no damage or injuries were reported as a result of the earthquake.