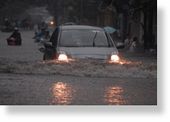 Floods have killed at least 19 people in central Vietnam, emergency services said Friday, as heavy rains also lashed the capital Hanoi and left many streets under one metre (three feet) of water.
Central Ha Tinh province -- where muddy waters inundated buildings and hundreds of hectares of rice and other crops -- reported seven deaths, said the National Flood and Storm Prevention Committee.
"A 48-year-old man was swept away after feeding his buffalo and a 19-year-old man was killed on the way to husk rice," said the committee's online report, adding that three of the victims were children.
Nghe An province reported eight deaths, four of them children aged between eight and 12 years old. The children were swept away in strong currents on their way home from school, the provincial disaster office said in a report.
More deaths were reported from Quang Ngai and Quang Nam provinces.
A week of heavy rains has swollen rivers and triggered flash floods and landslides in the region, where downpours continued Friday. In northern Vietnam, the capital Hanoi was also hit by heavy rains that turned streets into rivers and caused traffic chaos, leaving many people stranded as flood waters soaked their motorcycle engines.
Vietnam gets lashed by typhoons, tropical storms and heavy rains every year. According to government figures, floods and landslides in Vietnam last year left 435 people dead and missing.