A powerful earthquake hit mineral-rich northern Chile on Wednesday, killing at least two people, injuring more than 100 and halting output at some of the world's largest copper mines.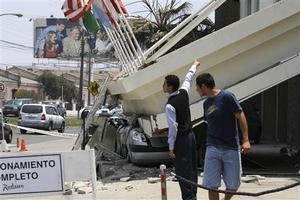 ©REUTERS/Stringer
Residents point to a roof that collapsed on a car after an earthquake in Antofagasta, northwest of Santiago, November 14, 2007.
Two people were confirmed dead and 117 were injured in the magnitude 7.7 quake, which raised massive dust clouds in Chile's mountainous north and shook buildings in isolated cities up and down the Pacific coast.
Dozens of road workers were reported trapped in and around a coastal highway tunnel that collapsed in the hardest-hit area and government spokesman Ricardo Lagos Weber said rescuers would try to reach them early on Thursday.
"They will be evacuated by the Navy via the ocean tomorrow ... As far as we know there are no injured or dead (among them)," Lagos said.
Hundreds of miles away in the Chilean capital Santiago, buildings swayed and unnerved even the earthquake-hardened.
The worst damage occurred in Tocopilla, 75 miles north of coastal mining city Antofagasta, where people were caught under rubble from crumbling rooftops and balconies.
Tocopilla's mayor, Luis Moyano, said at least 1,200 houses had been flattened, leaving 4,000 residents homeless.
"Today, the people of Tocopilla are going to have to sleep in the streets," he told local radio.
Among the injured in Tocopilla were 19 men, 89 women and seven children.
Aid group World Vision International, which sits on a disaster relief committee for the Chilean government, said it had information suggesting the situation in Tocopilla could be far worse than reported so far.
Authorities said an 88-year-old woman was killed when a wall fell on top of her and a 54-year-old woman also died, although the cause of her death was not clear.
CARS CRUSHED
Television images showed cars crushed under the concrete awning of a hotel in Antofagasta, where the quake knocked out power and phone services.
"People ran out into the streets because of how prolonged the quake was. There was a lot of alarm but no material or human damage," police chief Hernan Tamayo said in Arequipa, a town farther north near the Peruvian border.
President Michelle Bachelet was due to visit the earthquake zone on Thursday.
The government planned to send 14 tons of aid to the hardest hit area on Thursday, including food, kitchen utensils and emergency beds. Some 500 emergency shelters were also being shipped to Tocopilla, where relief workers were handing out drinking water to residents after regular service was cut off.
The United States Geological Service said the quake, 36.7 miles deep, was centered 66 miles west of the town of Calama and struck at 12:40 p.m. local time (10:40 a.m. EST).
The quake was initially reported at 7.8 magnitude by the U.S. agency and later verified at 7.7. Just two hours later, a second quake of 5.7 magnitude struck in the same northern region.
The quakes hit an area of many large copper mines. Chile is the world's biggest copper producer, providing more than a third of annual supplies of the red metal.
Copper prices jumped by as much as 6.29 percent to $3.3040 a pound on the New York Mercantile Exchange's COMEX division as huge copper mines reported they were without power. Stock in copper companies also rose.
Shares of copper miner Grupo Mexico rose 7.44 percent to 80.85 pesos in Mexico City as U.S. copper futures extended their gains.
BHP Billiton said work was paralyzed after power was cut off at its Escondida, Spence and Cerro Colorado copper mines.
Freeport-McMoRan Copper & Gold said it later resumed operations at its Candelaria mine in Chile, but its El Abra mine was still down without power.
Chilean state copper miner Codelco said it resumed operations at its largest division, Codelco Norte, two hours after the quake left it temporarily without electricity.
Big mines in the south of Peru, also a major global metals producer, said operations were not affected.
The earthquake did not trigger a tsunami along Chile's Pacific coast and initial warnings were lifted.
Chile, like other countries around the Pacific Rim's "ring of fire" earthquake zone, has a long history of strong quakes, including the strongest recorded in recent history -- the 1960 9.5 magnitude Valdivia quake that killed thousands of people.
(Additional reporting by Antonio de la Jara and Rodrigo Martinez in Santiago and Sandra Maler in Washington; Writing by Fiona Ortiz; Editing by Kieran Murray)