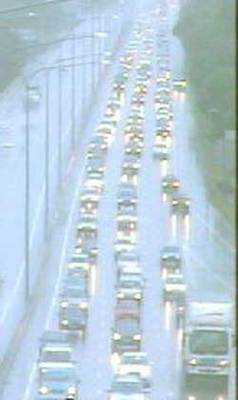 ©n/a
Traffic grinds to a halt southbound on the Pacific Motorway as a result of flooding at Loganholme.
Mini-tornadoes and hail could hit South-East Queensland later today when a severe storm cell strikes the region. Flash flooding, heavy rainfall, wind and large hailstones are expected to hit an area west of Brisbane over the next several hours.
The Bureau of Meterology warned that severe thunderstorms were likely to affect Warwick, Toowomba, Dalby, Stanthorpe, Oakey and Goondiwindi this afternoon.
Bureau of Meteorology senior forecaster Geoff Doueal said a mini-tornado hit Munruben (near Browns Plains) last night, while a severe storm also passed through Warwick.
"We saw quite a few reasonable falls (of rain) yesterday," he said. "There is a bit of rain now heading towards the area north of Brisbane, towards the dam area."
More than 100 volunteers from the State Emergency Service (SES) attended 82 jobs in South-East Queensland last night.
An SES spokesman said trees had been brought down in Richmond Street at Munruben, while some business premises had also been damaged.
An SES spokesman said 35 of last night's jobs were in the Beaudesert area, with 17 at the Gold Coast, 27 at Logan and three at Ipswich.
Emergency Management Queensland Regional Director Eddie Bennet most jobs the SES had attended involved trees on roofs or water-related roof damage.
"This is a good reminder to people that storm season is well and truly underway and they should make preparations now," he said.
The number to call for assistance from the SES anywhere in Queensland is 132 500.
Meanwhile, the Pacific Motorway has been reopened following lengthy delays this morning after a section near Loganholme was flooded. Trains on the Beenleigh line were also briefly interupted because of a power outage.
A Police Media spokeswoman said continuing rain had initially hampered efforts to clear the motorway as trucks pumped water away from the site. It is believed a blocked drain had stopped floodwaters from draining away from the road.
Energex spokesman Graham Metcalf said blackouts were widespread.
"We have had about 35,000 homes and businesses throughout South-East Queensland that lost power throughout the evening as those line of storms rolled through,'' he told the ABC. "We had thousands of lightning strikes as the storms hit South-East Queensland.''
A coastal wind warning has also been issued for Cape Moreton to Coolangatta, with northeast to northwest winds expected at 25 to 30 knots. Three-metre waves in open waters are also expected.