The nine scattered fires that have caused seven confirmed deaths in Southern California continued to burn Saturday, with more than 20,000 homes still in danger, officials said.
Lighter winds and higher humidity enabled firefighters to go on the attack, but many fingers of the fire remain unpredictable. It will take more than a week to put the fires out and probably longer to stamp out flare-ups, officials said.
©Unknown
Fire crews at the Santiago Canyon fire in Orange County made a stand on an old ridge-top truck trail to prevent the fire from burning several homes and heading into Riverside County.
Captain Phil Rawlings of the Orange County Fire Authority said the Santiago Canyon fire, which had consumed more than 27,000 acres, or 11,000 hectares, was in an area that had not burned in decades, making its path difficult to predict and its intensity particularly acute.
"We don't know how the fire will burn," he said. At least 200 homes could be threatened, depending on how the fire proceeded, he said.
The Orange County Fire Authority increased its reward offer, to $285,000 from $100,000, for tips leading to the arrest for what authorities say was an arsonist or a group of arsonists responsible for the devastating fire.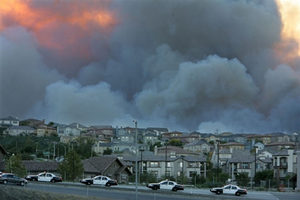 ©Unknown
In San Diego County, there was concern about a fire burning near the century-old Palomar Observatory. The most ferocious in terms of damage, the Witch fire, which had consumed more than 1,000 houses, continued to burn strongly, with winds remaining unpredictable. The Harris fire, raging near the Mexican border, was also far from containment.
But there were signs of progress. A fire that erupted at Camp Pendleton, burning 20,000 acres, was close to containment.
Qualcomm Stadium in San Diego closed operations for evacuees, but the San Diego Chargers said they would play their game on Sunday against the Houston Texans in San Diego, as scheduled.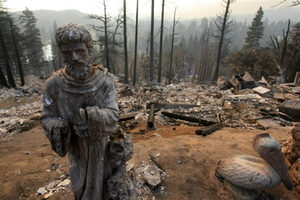 ©Unknown
In San Bernardino County, the Slide fire had burned more than 13,000 acres and was 15 percent contained by late Friday afternoon, with 10,000 houses still threatened and many mandatory evacuations still in place.
At one point, the fires forced half a million residents to evacuate. Californians continued to make their way back to charred neighborhoods, salvaging what they could and coming to terms in hundreds of cases with vast swaths of nothingness. Others returned to learn that they had been spared, even when neighbors' houses had burned to the ground.
Air quality remained poor, and health officials advised people with heart disease and respiratory diseases, including asthma, as well as the elderly and children to avoid outdoor activities. Many schools curtailed or canceled recess during the week, and sports leagues also considered cancellations.