Hail pelted southeast South Dakota counties mostly along the Missouri River on Tuesday night.
Dante in eastern Charles Mix County received hail larger than 4.25 inches in diameter, said Greg Harmon, National Weather Service meterologist in Sioux Falls. The softball-plus size hail broke car windows in town, he said.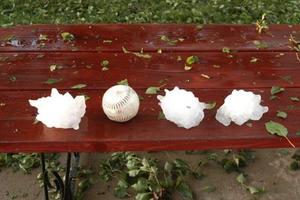 ©AP
That size of hail is quite rare, occurring when a lot of moisture is in the atmosphere, Harmon said.
"These stones have a chance to grow in size because we have so much moisture," he said. "If they're falling down the size of baseballs, they're probably big ice chunks up at the top part of storms."
Hail as big as 2.5 inches fell in Wagner, according to the National Weather Service. Quarter-size or 1-inch hail littered yards near Vermillion, Gayville and Delmont. Smaller hail was reported near Lake Andes, Armour and in Yankton.