Pavlof Volcano on the Alaska Peninsula started erupting Wednesday, a day after scientists issued a warning based on a sudden surge in local earthquakes.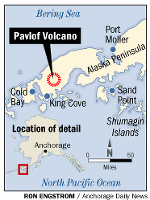 ©Ron Engstrom/Anchorage Daily News
The volcano, one of the most active in the Aleutian rim of fire, is spewing molten rock in what could be a buildup to a bigger ash explosion, scientists said.
Eyewitnesses on a fishing boat reported seeing incandescent blocks falling down the east-southeast flank of the volcano early Wednesday, the Alaska Volcano Observatory reported. The observatory had already raised its aviation alert code for the volcano from yellow to orange, and the alert level from Advisory to Watch, based on heat readings by weather satellites and an escalating swarm of earthquake signals from sensors on the mountain.
A pilot reported a weak ash plume Wednesday extending five miles southwest of the summit at about 8,400 feet elevation.
Scientists said the eruption could become stronger at any time. In previous eruptions, the mountain spewed lava for a week or more before suddenly sending ash clouds miles into the sky, said Steve McNutt, a professor at the University of Alaska Fairbanks Geophysical Institute who works with the observatory.
Low clouds Wednesday obscured views of the steep cone-shaped mountain from the nearest community, Cold Bay, 37 miles to the southwest. Pavlof is located 590 miles from Anchorage.
Immediate hazards around the volcano include light ash fall on nearby communities, mudflows in local drainages, and lava flows and avalanching of hot debris on the upper reaches of the volcano, the observatory said.
With nearly 40 historic eruptions, Pavlof is closely watched and heavily wired for seismic readings. Attention was drawn to the volcano Tuesday when earthquake activity increased abruptly. Similar patterns of seismicity occurred before eruptions in 1996, 1986, 1983 and 1981, observatory scientists said. They issued their first alert at 9:30 a.m. Tuesday.
The 1996 eruption resulted in a series of ash explosions, lava fountaining and lava flows over several months. Ash clouds reached as high as 30,000 feet. An eruption 10 years earlier sent a cloud as high as 49,000 feet. Ash clouds can present a hazard to aviation.
McNutt said Pavlof has experienced its longest period of repose on record -- 11 years.
One of Pavlof's peculiarities is that its eruptions in the past half-century have been noticeably seasonal, coming between September and November, said McNutt. A hypothesis, tested by modeling and as yet unrefuted, is that the seasonal fall buildup of low pressure in the Aleutians piles an extra foot of water onto the beaches, squeezing the magma at depth, he said.
"This one's a little early," McNutt said.