Global warming is not just a theory in Torres Strait - it is lapping at people's doorsteps.
The phenomenon is a visible reality as rising sea levels threaten to erase centuries-old island communities.
Roads have been swallowed whole, buildings washed out, graveyards swamped and houses flooded in six of the most vulnerable low-lying island communities.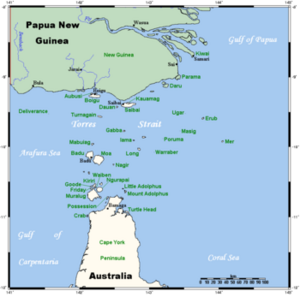 ©OMC
Authorities have ordered evacuation and relocation plans for more than 2000 people who face losing their land and livelihood from the invading sea.
"These islands are sinking," Torres Shire Mayor Pedro Stephen said yesterday.
"People are looking at options of building on stilts or even floating pontoons because of the rising sea levels.
"And this is the heartbreaking thing, this generation or the next may have to leave behind all they have ever known, all because of global warming."
Scientists predict warmer sea temperatures (thermal expansion) and the meting of the ice caps will contribute to a sea-level rise of between 9cm and 88cm in the next 50 years.
Some parts of the most vulnerable islands - Masig (Yorke), Poruma (Coconut), Warraber, Yam, Saibai and Boigu - are today less than 1m above sea level.
Mother-of-two Helen Mosby, 21, of Yorke Island, yesterday showed Brisbane's The Courier-Mail newspaper the dramatic impact of global warming on her island home.
"You can see where the ocean has eaten up the road," said Ms Mosby walking with son Josiah, 5.
"It is a big change, and it seems to be getting worse in the past two years or so."
James Cook University's Dr Kevin Parnell, a coastal geomorphologist studying the sinking islands, said they would probably not disappear within a generation, but the threat was "not trivial".
"There is the possibility of more frequent extreme events, like storm surge and high tides, causing the water to come up higher on to the land," he said.
The Yorke Island church - more than 50m inland from the high-tide mark - was last year inundated while more than 60m of land on Coconut Island has been consumed since 2000.