The Roiling waters five miles off Trinidad's east coast might be a sign of a mud volcano growing on the ocean floor, belching out methane gas along with a slurry of mud and sediment, experts believe.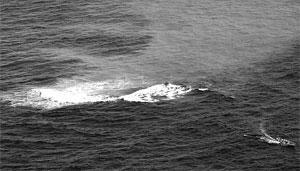 ©Trinidad Express
A pirogue (small boat), bottom right, moves past what appears to be the activities of a "mud volcano" off Radix Point, Mayaro yesterday.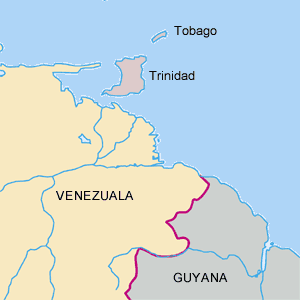 ©Unk
And all fishing vessel operators have been asked to stay far because the gas bubbling to the surface could decrease the buoyancy of the water and sink ships.
An area larger than a football field has turned muddy brown off the coast of Point Radix, near Ortoire Village, Mayaro. At the centre, waves are foaming and the water appears to be bulging, creating a ripple around the phenomenon.
An official of oil and gas company, bpTT, said the activity was not as a result of any of its seabed oil or gas pipelines and there were no petroleum installations close by.
The Coast Guard and officials from the Maritime Services Division of the Ministry of Works are monitoring the development.
Richard Robertson, head of the Seismic Research Unit at the University of the West Indies, at St Augustine, who visited the area on Tuesday, told the Express yesterday that the activity was not that of a volcano in the true sense of the word.
"It is simply the manifestation of a mud volcano similar to what appeared some years ago at Chatham," he said.
In 2001, the mud volcano rose five feet above sea level off Erin Bay, Chatham, and officials warned people to stay away because of toxic gases and the risk of spontaneous combustion of gases.
On Monday, workmen returning from an offshore oil platform reported to the Office of Disaster Preparedness and Management that they had seen what was described as " some volcanic activity" about four to five miles off Radix Point.
Robertson said a volcano "similar to the one that erupted in Montserrat sometime ago" must contain molten rocks and we have not seen any evidence of this."
He said the matter was referred to the Ministry of Works, and the Coast Guard which will continue to issue safety bulletins to small craft owners operating in the area.
ODPM chief executive officer Paul Saunders said:
"The matter is in the hands of the Coast Guard and the Ministry and if the situation deteriorates they would advise us."
A mud "volcano" has appeared periodically off Chatham, near Point Fortin, for a number of years. It disappears after a few weeks.