Flood-battered Britain is on alert for further chaos and loss of life this weekend as fears grow that more heavy downpours are on the way.
Forecasters say an "organised band of persistent showers" is set to sweep the country on Friday and Saturday, bringing several more inches of rain to many already-­saturated regions.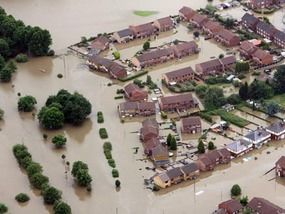 DELUGE: An aerial view of flooded homes in Catcliffe near Sheffield.
The worst of the deluge, expected on Saturday morning, could cause flooding on a national scale, with heavy rainfall likely to hit "almost anywhere".
Experts warned that many waterlogged areas were seriously at risk, as the water now has nowhere to go.
There are already 245 areas across the country considered to be at risk of flooding after weeks of rain culminated in Monday's unseasonal downpour.
And at 27 of the sites the threat is so severe that experts say there is an imminent danger to life and property. The ­Environment Agency is particularly concerned about high water levels in Lincoln, Stafford, Derby, Ludlow in Shropshire, Tenbury Wells in Worcestershire and the entire River Don valley in South Yorkshire.
A spokesman said the situation was being monitored around the clock because even a "small amount of rain" would cause problems as the ground was already saturated.
Forecasters called the freak conditions an
"unprecedented weather event" that would continue to get worse.
The latest weather threat comes after the death toll from Monday's storm rose to five.
Police in Worcestershire last night recovered the body of a unidentified man inside a Volvo car submerged under 7ft of floodwater near Drakes Broughton.
And a 10-year-old boy died yesterday when a tree branch, possibly weakened by heavy rain and strong winds, fell on him.
Another boy was last night fighting for his life and two others were injured.
The pupils, from Heathlands Primary School in West Berg­holt, near Colchester, were visiting a stately home in Felbrigg, Norfolk, at the time of the tragedy.
Police are still investigating if the bad weather was to blame.
In Sheffield, the teenage ­victim of Monday's floods was yesterday named as 14-year-old Ryan Parry.
The youngster was swept away by the River Sheaf after being forced to walk three miles home when buses in the flood-hit city stopped running.
His distraught parents, Mandy and Chris, last night described their son as "a lovable, happy-go-lucky lad" who "put everyone before himself".
Severe flooding in Sheffield also claimed the life of a 68-year-old man as he tried to cross a road.
And in Hull, 28-year-old Mike Barnett died after becoming trapped in a drain despite frantic attempts by emergency services to save him.
A massive clear-up operation was launched in Sheffield and South Yorkshire yesterday after the single worst day of rainfall in living memory.
Hundreds of people were evacuated from their homes as the deluge caused water levels to rise rapidly and thousands were left without power.
Forecasters yesterday warned that millions more across Bri­tain could be in danger as the new weather threat progresses.
Met Office spokesman Keith Fenwick said: "One of the messages we want to get out there is that we're not out of the woods yet. Heavy showers will cause further problems from today onwards.
"They won't be prolonged but if they hit the Sheffield or the South Yorkshire area they will certainly hamper recovery operations.
"Equally worrying is that this weekend there are some ­early signs of a more organised ­band of rain on course to hit us again.
"It's too early to say where the worst-affected areas will be or how much rainfall it will ­generate. But it will be most unwelcome in the areas that have already been affected.
"People need to remain alert to flooding and stay in contact with forecasters and the Environment Agency."
A new weather system will progress through the West Country, Wales and Northern Ireland on Saturday morning and will move across Britain during the course of the weekend in a north-easterly direction.
The rain will become widespread during the afternoon through central and southern England, the Midlands, the North and West. Showers will continue throughout Sunday.
Stuart Brennan, of the Environment Agency, said: "People around here can't remember anything like this. The sheer amount of rain is unprecedented and it has never been on such a widespread scale.
"No one knows where the next rain will hit. We are monitoring river levels on a 24-hour basis and would urge people to keep an eye on local forecasts."
The heaviest rainfall on Monday was in Burncross, Sheffield, which saw 4.2in (107mm) over 24 hours.
Eight regions across England and Wales - the North-east, Cheshire, Herefordshire, Nott- inghamshire, Warwickshire, Yorkshire, Flintshire and the Isle of Man - have already had their wettest June on record.
And forecasters expect this month to become officially Britain's wettest ever June.
The worst June on record occurred in 1980 when an average 4.8in (121.2mm) of rain fell across the country.
But the national average this month has already reached 4.2in (106.5mm) and the rain on Saturday could push totals above the record.
Mr Fenwick said: "This was an almost unprecedented wea­ther event for the summer months in Britain.
"In each of the last 14 days there has been somewhere in the UK that has recorded more than one inch of rain."
Tony Conlan, of national forecasters MeteoGroup UK, said: "There will be more heavy rain on Thursday night and Friday. We are not sure exactly where it is going to hit. There could be further heavy rain anywhere."