If you didn't sleep well Wednesday night, especially in the northwest Denver metro area, blame Mother Nature.
A powerful area of low pressure passing to the north of Colorado produced hurricane-force winds in and near the foothills west of Denver.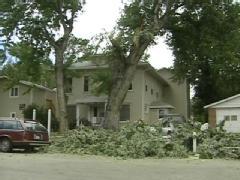 ©TheDenverChannel.com
Sustained winds of 50 to 70 mph hammered the northwest Denver metro area late Wednesday and early Thursday, with numerous gusts between 80 and 90 mph.
Just above the surface, winds were equivalent to a Category 4 hurricane.
The National Weather Service Doppler radar measured a 142 mph wind gust 2,000 feet above the town of Louisville at 10:20 p.m. Wednesday.
There have been numerous reports of damage to trees and signs in the town of Louisville, with wind gusts at the surface averaging between 70 and 90 mph.
Other damage reports from the northwest metro area include a roof off a house in Thornton, and tree damage in both Golden and Boulder.